Alexandra BastedoNUDE NUDE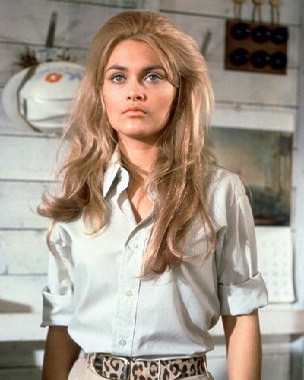 Alexandra Bastedo (born 9 March 1946, Hove, East Sussex, England) is a British actress, best-known for her role as secret agent Sharron Macready in the 1968 British espionage/science fiction adventure series The Champions.
According to her official website, her mother is of French, German, and Italian descent. Her Canadian-born father is of Spanish, Dutch, Scottish and native Indian extraction. Her husband is the director Patrick Garland, noted for his direction of the Chichester festival.
Bastedo gained fame in the continent earning her the nickname, "La Bastedo". Although most familiar to viewers of 1960s TV, she was also famed for her multilingual skills, speaking Italian, Spanish, French and German. This skill brought her to the door of 10 Downing Street to assist with translations and landed her the role of co-presenter of Miss World competitions with Peter Marshall in the 1980s. In the early 1990s she appeared in an episode of Absolutely Fabulous playing a 1960s model associate of Edina and Patsy. In 1991 she appeared in a notable production of the psychological thriller Dangerous Obsession by N.J. Crisp, opposite Marc Sinden and John Challis, at The Mill at Sonning.
During a recent interview on the BBC television series Where Are They Now? Bastedo provided a glimpse into her private life. She is the president of her local RSPCA branch.[citation needed]
Bastedo wrote a memoir, Beware Dobermanns, Donkeys and Ducks, as well as several books on caring for cats & dogs.
In 2006 Bastedo was reunited for the first time with her co-stars from The Champions to provide commentaries and an interview for a DVD release of the show. Still an active actress, she appeared in Batman Begins, and touring theatres in 2006 with a production of Beyond Reasonable Doubt alongside Leslie Grantham and Simon Ward. In 2008 she joined the cast of EastEnders playing "Cynthia".[1][2] In January 2008 she appeared as co-presenter (with Ed Stewart) of 'The Magic of Mantovani' at Lighthouse, Poole. The success of this concert led, the following year, to a second concert at Lighthouse in Poole, with the Mantovani Orchestra, which she again co-presented.

Bastedo is a breast cancer survivor. Her younger brother, Lindsay, died following a long battle with cancer.