Jane Seymore NUDE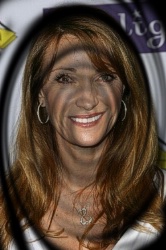 Jane Seymour, OBE (born Joyce Penelope Wilhelmina Frankenberg on February 15, 1951) is an English born actress best known as the Bond girl in the James Bond film Live and Let Die and as the star of the American television series Dr. Quinn, Medicine Woman and its telefilm sequels.
Joyce Penelope Wilhelmina Frankenberg was born in Hayes, London, England, to John Frankenberg, an English, Jewish obstetrician of Polish and German origin, and his Dutch wife, Mieke Frankenberg, who survived Japanese prison camps during World War II and cared for other prisoners with no medicine and only relying on her Red Cross training. John died in 1990 after 40 years of marriage, and Mieke died on October 2, 2007. Their daughter took the stage name Jane Seymour, also the name of King Henry VIII's third wife, at the age of 17. She was educated at the independent The Arts Educational School in Tring, Hertfordshire, in England.
Seymour has had a long acting career in both film and television, beginning in 1969 with an uncredited role in Richard Attenborough's film version of Oh! What a Lovely War. Soon afterward she married Attenborough's son, Michael Attenborough. Her first major film role was as Lillian Stein, a Jewish woman seeking shelter from the Nazis with a Danish Christian family in the 1970 war drama The Only Way.
From 1972 to 1973, she gained her first major TV role as Emma Callon in the successful 1970s series The Onedin Line. During this time she appeared as female lead Prima in the two-part TV mini-series Frankenstein: The True Story and as Winston Churchill's lover Pamela Plowden in another of the films produced by her father-in-law, Young Winston. She also drew her first major international attention as Bond girl Solitaire in the James Bond film Live and Let Die. IGN ranked her as 10th in a Top 10 Bond Babes list.[1]
Seymour divorced Michael Attenborough in 1973. She then took only two minor TV roles until cast as Princess Farah in Sinbad and the Eye of the Tiger, the third part of Ray Harryhausen's Sinbad trilogy, in 1975. (The film was not released, however, until its stop motion animation sequences had been completed in 1977.) In 1978, she played Serina in the Battlestar Galactica motion picture, and then in the first two episodes of the series that followed, until the character was killed. In 1981, she was cast as Cathy Ames in the TV miniseries of John Steinbeck's East of Eden. She also played the role of an undercover reporter in a TV movie about the Dallas Cowboys Cheerleaders.
In 1980, Seymour returned to the big screen in the comedy Oh Heavenly Dog opposite Chevy Chase, and as Elise McKenna in the romantic fantasy Somewhere in Time opposite Christopher Reeve. Seymour appeared nude in the 1984 film Lassiter, co-starring Tom Selleck, but in 1987 she posed semi-nude pictorial in Playboy magazine.

Jane Seymour at the 40th Emmy Awards, August, 1988Seymour won the female lead in the 12-part TV miniseries, War and Remembrance (1988), in which she played Natalie Henry, an American Jewish woman trapped in Europe during World War II. The series was based on the successful novel by Herman Wouk, and is noted for its accurate and graphic depiction of the Holocaust.
In 1989, on the occasion of the 200th anniversary of the French Revolution, Seymour appeared in the television movie La révolution française (filmed in both French and English). Seymour appeared as the doomed French queen, Marie Antoinette; the actress' two children — Katherine and Sean — appeared as the queen's children.
Seymour continued to take numerous roles in TV movies and series, most notably as Dr. Michaela "Mike" Quinn in the TV series Dr. Quinn, Medicine Woman and its TV-movie sequels (1993-2001), through which she met her fourth husband, actor-director James Keach. In 2004, she made several guest appearances in the WB Network series Smallville, playing Genevieve Teague, the wealthy, scheming mother of Jason Teague (Jensen Ackles). She also made a guest appearance on Law & Order: Special Victims Unit.
Seymour returned to the big screen in 2005 with playing Kathleen Cleary, wife of fictional U.S. Secretary of the Treasury William Cleary (Christopher Walken), in the comedy Wedding Crashers. She returned to TV in the short-lived WB series Modern Men, broadcast in spring 2006.
In fall 2006, Seymour guest-starred as a law-school professor on an episode of the CBS sitcom How I Met Your Mother and as a wealthy client on the FOX legal drama Justice. In 2007, she guest-starred in the ABC sitcom In Case of Emergency, which stars Lori Loughlin and Jonathan Silverman. She also appeared in ITV's Marple: Ordeal By Innocence based on the Agatha Christie novel. She was a contestant on season five of the U.S. reality show Dancing with the Stars, which on the 7th week of competition, she was eliminated. Seymour also currently fronts an advertising campaign for the Scottish furniture chain Reid.