Janet Leigh NUDE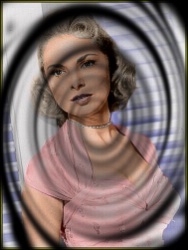 Janet Leigh (born Jeanette Helen Morrison; July 6, 1927 – October 3, 2004) was an American actress. Her most famous role was in Alfred Hitchcock's classic Psycho, for which she received a Golden Globe and was nominated for an Academy Award.

Leigh was born in Merced, California, the only child of Helen Lita (née Westergard) and Frederick Robert Morrison. She was discovered by actress Norma Shearer, whose late husband Irving Thalberg had been a senior executive at Metro-Goldwyn-Mayer. Shearer showed talent agent Lew Wasserman the photograph she had seen of Leigh while vacationing at the ski resort where the girl's parents worked. She left the University of the Pacific, where she was studying music and psychology, after Wasserman secured a contract with MGM.
Leigh made her film debut in The Romance of Rosy Ridge in 1947, as the romantic interest of Van Johnson's character. Throughout the 1950s, she starred in movies, most notably in the leading role in the musical comedy My Sister Eileen, co-starring Jack Lemmon, Betty Garrett and Dick York.
Janet Leigh in Touch of Evil (1958).Leigh's best-known role was as the morally ambiguous Marion Crane in the Alfred Hitchcock classic 1960 film Psycho. In spite of her outstanding performance as Crane, Leigh went through typecasting and spent most of her career doing guest appearances on TV shows. Her performance earned her a Golden Globe and an Academy award nomination. Years later, she wrote a book about the making of Psycho, in which she dispelled the urban legends which had popped up around it, notably, about the immortal "shower scene."
She had starring roles in many other films, including the Orson Welles film-noir classic Touch of Evil, 1962's The Manchurian Candidate with Frank Sinatra and the 1963 musical Bye Bye Birdie based on the hit Broadway show.
In 1975, Leigh played a retired Hollywood song and dance star opposite Peter Falk and John Payne in Columbo: Forgotten Lady. She also appeared in two horror films with her daughter, Jamie Lee Curtis, playing a major role in The Fog (1980), and making a brief appearance in Halloween H20: 20 Years Later (1998).