Jenny Frost NUDE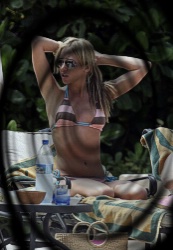 Jennifer Frost (born 22 February 1978) is an English singer, model, television personality, DJ and member of Atomic Kitten.
Frost loved music from an early age. Her earliest concert experience was when her father took her to a Level 42 concert at the age of nine.[1] Sports and dancing were Frost's favorite activities, however modelling was her dream. After high school she started to work for the BBC Television doing the Holiday programme and traveling around the world.
Frost started her musical career in 1998 in the group Precious, which became famous by winning the right to represent the UK at the Eurovision Song Contest in 1999, with the song "Say It Again". In a strange reversal of what has frequently happened to British entries, this success propelled Jenny and the band to a big hit in the UK Singles Chart, while they flopped at the contest itself, finishing only twelfth. Subsequent releases by Precious enjoyed only modest success and Frost moved on by replacing Kerry Katona in Atomic Kitten in 2001, just in time to bask in the reflected glory of their first UK No. 1 single, "Whole Again".
Frost got engaged to DJ Dom Thrupp in 2002 with plans to marry sometime in 2008.[2] After the split of Atomic Kitten, Frost has embarked on a solo career and released her first single "Crash Landing" on 10 October 2005, which failed to reach the Top 40. Frost originally recorded the song for the band Route 1, but decided to remake it and shoot a video for the song which features Jenny in a spaceship in a pink/purple setting.
She appeared on the 2005 edition of I'm a Celebrity... Get Me Out of Here! on the ITV network. Frost is also part of Premier Model Management and does various modeling assignments like being the face of an underwear range[3][4].
Frost's song "Bad Girl" is available from her official MySpace. The song was originally written for Jennifer Lopez film, Enough, and was written by Frost's boyfriend Dom Thrupp.
In September 2007, Frost confirmed on the television show, Loose Women, that she was indeed expecting a baby boy. Her son, Caspar J. Thrupp was born on 9 October 2007[5].
In July 2008 she presented the BBC Three programme Snog, Marry, Avoid.