Jill Dando NUDE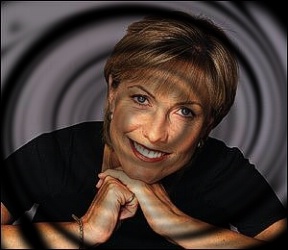 Jill Wendy Dando (9 November 1961 – 26 April 1999) was an English journalist, television presenter and Newsreader who worked for the BBC for 14 years until she was murdered in April 1999. Her death sparked a huge manhunt by the Metropolitan Police and led to the trial of Barry George. Initially convicted of the murder, after a successful appeal and retrial, George was finally acquitted on 1 August 2008, thus leaving the crime unsolved.
Jill Dando was born in Weston-super-Mare, North Somerset, and was educated at Mendip Green Infant School, St Martin's Junior School, Worle Comprehensive School and Broadoak Sixth Form Centre, where she was head girl.[1] She studied journalism at South Glamorgan Institute of Higher Education in Wales.
Dando was a keen thespian. She was a member of Weston-super-Mare Amateur Dramatic Society and Exeter Little Theatre Company, with whom she appeared in plays at the Barnfield Theatre.
Dando was a volunteer at Sunshine Hospital Radio in Weston-super-Mare before she started her first job as a trainee reporter for the local newspaper, the Weston Mercury, where her father and brother worked. After five years as a print journalist, she began employment with the BBC when she became a newsreader for BBC Radio Devon in 1985. That year, she transferred to BBC South West, where she presented a regional news magazine programme, Spotlight South West. In 1986, Dando made a move from regional to national television when she moved to London to present the hourly daytime television news summaries.
Dando went on to present the BBC television programmes Breakfast News, the BBC One O'Clock News, the Six O'Clock News, the travel programme Holiday, the crime appeal series Crimewatch and occasionally Songs of Praise. At the time of her death she was among those with the highest profile of the BBC's on-screen staff; she had previously been BBC Personality of the Year. Crimewatch would later reconstruct her murder in an attempt to aid the police in the search for her killer. However, following the acquittal of Barry George, Crimewatch has made no further appeals for information about Dando's murder. At the time of her death, Dando had presented just one episode of her new project, The Antiques Inspectors and was scheduled to present the Six O'Clock News that evening.[1] She was featured on the cover of that week's Radio Times magazine.

On the morning of 26 April 1999, Dando left the Chiswick home of her fiancé, Dr. Alan Farthing, and returned alone to her house in Gowan Avenue, Fulham, West London. As she reached her front door at about 11:32, she was shot once in the head.[2] Her body was discovered shortly afterwards by a local resident Helen Doble. Dando was taken to the nearby Charing Cross Hospital where she was declared dead on arrival at 13:03 BST. She was 37 years old.
"As Dando was about to put her keys in the lock to open the front door of her home in Fulham, she was grabbed from behind. With his right arm, the assailant held her and forced her to the ground, so that her face was almost touching the tiled step of the porch. Then, with his left hand, he fired a single shot at her left temple, killing her instantly. The bullet entered her head just above her ear, parallel to the ground, and came out the right side of her head." - Bob Woffinden, The Guardian, July 2002
Forensic study indicated that Dando had been shot by a 9mm automatic pistol, with the gun pressed against her head at the moment of the shot. The killer, a white man aged around 40, was seen walking from the scene of the attack.