Barbara Alyn Woods NUDE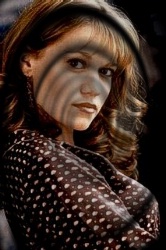 Barbara Alyn Woods (born March 11, 1965 in Chicago, Illinois) is an American actress. Barbara is married to John Lind whom she met on the set of Honey, I Shrunk the Kids: The TV Show. They were married in 1999. They have three daughters. Barbara gave birth to her third baby girl on July 27, 2007.
Barbara is most recently known for her role of Deborah Lee (formerly Deb Scott), on One Tree Hill (2003 - present). She started out recurring in season 1, and became a contract star in the second season. Many fans are familiar with her for her role as Diane Szalinski on Honey, I Shrunk the Kids: The TV Show or in the movie Striptease.She posed nude in June 1993 playboy issue alongside Daniel McCulloch.
Her TV guest appearances include The Schizoid Man an episode of Star Trek: The Next Generation, Picket Fences, Ally McBeal, Wings, and American Dreams. She has guest starred on 20 different TV shows...