Caroline Munro NUDE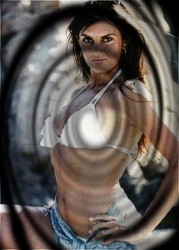 Caroline Munro (born 16 January 1950) is a British actress and model known for her many appearances in science fiction and action films of the 1970s and 1980s.
Hammer Films CEO Sir James Carreras spotted Munro on a Lamb's Navy Rum poster/billboard. He asked his right hand man, James Liggett, to find and screen test her. She was immediately signed to a one-year contract. Her first film for Hammer proved to be something of a turning point in her career. It was during the making of Dracula AD 1972 that she decided from this film onward she was a full-fledged actress. Up until then she was always considered a model who did some acting on the side.
Munro completed her contract for Hammer with Captain Kronos - Vampire Hunter. Directed by Brian Clemens, she plays the barefoot gypsy girl Carla. In Paramount Pictures DVD commentary, Clemens explains that he envisioned the role as a fiery, Raquel Welch type, red-head. Hammer pushed for Munro, and the script was adapted accordingly.Munro has the distinction of being the only actor ever signed to a long-term contract by Hammer Films. She would later turn down the lead female roles in Hammer's Dr. Jekyll and Sister Hyde, Frankenstein and the Monster from Hell, and the unmade Vampirella because they required nudity.
[edit] The Golden Voyage of Sinbad
Brian Clemens would later be responsible for bringing Munro one of her most memorable roles, Margiana in 1974's The Golden Voyage of Sinbad.I got the part - I had been signed by Hammer for one year for a contract out of which I did two films, one being Dracula AD 1972 and the second one being Captain Kronos - Vampire Hunter, which kind of would come full circle to Sinbad. It was written and directed by Brian Clemens who wrote the screenplay for The Golden Voyage of Sinbad, so I was lucky enough to be chosen for Captain Kronos and they were searching for somebody to do Sinbad and they wanted a big name, somebody American or well known, but Brian said no. He kept lobbying Charles Schneer [producer] and Ray Harryhausen - saying 'I think you should come and look at the rushes and see what you think because I think she's right.' So they said no, no but eventually Brian persuaded them to do that and they saw the rushes and that was how I got the part. So it was lovely, like work out of work. I was very lucky to have done that. Other appearances during this time included I Don't Want to Be Born (1975) with Joan Collins, and 1976's At the Earth's Core with Peter Cushing and Doug McClure.