Denise Van Outen NUDE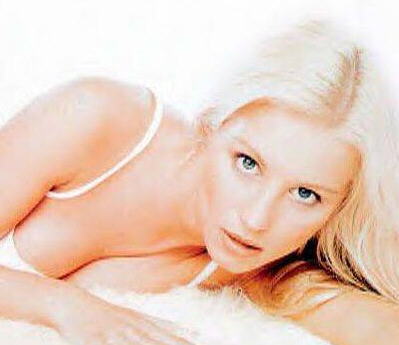 Denise van Outen (born May 27, 1974, Basildon, Essex) is an English television hostess and stage actress of partially Dutch descent. Her most notable roles to date were as a presenter on The Big Breakfast, and as Roxie Hart in the musical Chicago on both the West End and on Broadway.
During 1995, Van Outen started her television career on Saturday morning ITV show Scratchy and Co's mini youth program Massive! Van Outen joined The Big Breakfast on Channel 4 as a weather and travel reporter in 1996[7] and landed the main co-presenting role in 1997. It proved to be her big breakthrough, with her cheeky "Essex Girl" personality and sexy clothing playing off well against the quick wit of Johnny Vaughan, and together they recovered audience figures to record levels.
She took a break from presenting the show towards the end of 1998 but returned in 2000 for a further year-long stint in an attempt to boost the ratings, which had tailed off following her departure.[8] When the show closed down,[9] Van Outen gave Vaughan a present of a set of AMG wheels for his Mercedes Benz CLK - commented on as "very Essex Girl" by Jeremy Clarkson when the pair appeared on the BBC's Top Gear programme.[10]
Van Outen then returned to television. The revival of her on screen relationship with Vaughan failed in 2004 in the BBC's Saturday night family revival show "Passport to Paradise,"[11] but she returned again in mid-2005 to co-presented ITV's This Morning with Richard Bacon.
Van Outen had been set to present How Do You Solve A Problem Like Maria? in 2006 for the BBC, a programme searching for a girl to play the role of Maria in The Sound of Music,[12] but pulled out in favour of seeking fame in America and was replaced by Irish comedian Graham Norton.[13]. She subsequently presented NBC's Grease: You're the One that I Want!
After her commitments ended on the show she began re-establishing her television career in the UK. In November 2006, she hosted Sky One's "The Race" - set at Silverstone Circuit - in which a celebrity Girls Team headed by David Coulthard raced against a celebrity Boys Team headed by Eddie Irvine. In December 2006, she hosted the National Lottery Christmas special, and in January 2007 hosted one show of The Friday Night Project. She also guested on The Charlotte Church Show, and was one of the judges at the Miss World pageant in Warsaw, Poland.
In 2007, she joined the panel for BBC One's follow up to How Do You Solve A Problem Like Maria?, Any Dream Will Do! which was casting Joseph in Joseph and the Amazing Technicolor Dreamcoat.[7] After viewers on 9 June 2007 voted Lee Mead as the winner of Any Dream Will Do! - to play the role of Joseph in a revival at London's Adelphi Theatre of Joseph and the Amazing Technicolor Dreamcoat van Outen said: "From the very beginning right through to the very end, Lee has been the most consistent out of all the contestants. He has the ability to make even really popular songs his own and he has his own unique style of performing. The next time he lands a role as a leading man, can he put me forward to be the leading lady?"[