Eileen Daly NUDE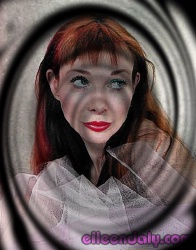 Eileen Daly (born June 1, 1963), is an English actress. She is also a better known contemporary scream queen starring in cult movies.
Eileen Daly was born on the 1st of June, 1963 in Surrey, England. She has a younger brother. She tried drama school but dropped out because she lacked the discipline. She was living with Tim Pope, who directed promos for The Cure, Siouxsie and the Banshees, and Soft Cell, which explains her gothy good looks. Eileen left home quite young and started modelling to earn her keep, moving from place to place all around South London. She did game shows, mud wrestling, kissograms, TV parts, pop promos.
She got serious about her acting in her mid-20s. Eileen always loved horror films and had wanted to star in them. So when she started getting parts in a few little horror films, it changed her focus on what she wanted to do. It was around this time that she met Nigel Wingrove and together they started up a company called Redemption Films. The recognition she got from the Redemption work became the turning point of her career. She has appeared in films such as All About Anna, Cradle of Fear, Kannibal, Sentinels of Darkness, Neon, Machines of Love & Hate, Razor Blade Smile, Witchcraft X and most recently Evil Calls: The Raven reuniting her with Kannibal director Richard Driscoll.
In the controversial mainstream movie All About Anna, produced by Lars von Trier's company Zentropa, Eileen Daly plays a leading role which includes several explicit, non-simulated sex scenes, including a scene of fellatio performed to climax and full intercourse. In Razor Blade Smile she has a vampiric lesbian scene that gets a little bloody as she bites Heidi James on the neck. In Cradle of Fear, her love interest is a cripple and she can be seen licking and kissing his leg stump. Eileen Daly also appears in the adult video Private Sports 5: Surf Fuckers from Private Media Group, but only in a non-sex appearance.