Emily Mortimer NUDE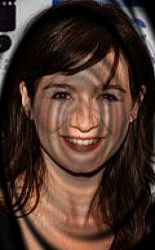 Emily Mortimer (born 1 December 1971) is an English actress. She began performing on stage, and has since appeared in several film and television roles, including 2000's Scream 3 and 2005's Match Point.
Mortimer was born in London, England, the daughter of Sir John Mortimer QC (lawyer and dramatist famous for Rumpole of the Bailey) and Penelope (née Gollop). Her maternal grandfather was a pig farmer.[1] She has a younger sister, Rosie, and a half brother, Ross Bentley. Mortimer studied at St Paul's Girls' School, where she appeared in several student productions. After St. Paul's, she moved on to Lincoln College, Oxford, where she read Russian, and performed in several plays. Before becoming an actress, Emily wrote a column for the Daily Telegraph, and was also screenwriter for a screen adaptation of Lorna Sage's novel, Bad Blood.

[edit] Career
Mortimer performed in several plays while studying at Oxford University, and while acting in a student production she was spotted by a producer who later cast her in a supporting role in a television adaptation of Dame Catherine Cookson's The Glass Virgin (1995). Subsequent television roles included Sharpe's Sword. Her first film role was opposite Val Kilmer in 1996's The Ghost and the Darkness. Mortimer was then in the Irish coming-of-age story The Last of the High Kings, released later the same year. In 1998 she appeared as Kat Ashley in Elizabeth, and played Miss Flynn in the TV mini-series Cider with Rosie, which was adapted for television by her father.
In 1999, she played three roles that raised her profile outside the UK: She was the ill-fated "Perfect Girl" dropped by Hugh Grant in Notting Hill, appeared as Esther in the American TV mini-series Noah's Ark, and was Angelina, the star of the film-within-a-film, in the upscale slasher flick Scream 3.
In 2000, Mortimer was cast as Katherine in Kenneth Branagh's musical adaptation of Love's Labour's Lost, where she met actor and future husband Alessandro Nivola. Mortimer changed her prim image in favor of a more provocative one when she appeared full-frontally nude in the 2001 film "Lovely and Amazing". She took on her biggest role in an American film to date, playing opposite Bruce Willis in The Kid. In 2002, she had a major role in The 51st State, starring opposite Samuel L. Jackson and Robert Carlyle, and was a supporting character in John Woo's war drama Windtalkers. In 2004, she appeared in the movie Dear Frankie. In 2005, she played a major role as the oblivious spouse of an adulterous Jonathan Rhys Meyers in Woody Allen's Match Point, as well as voicing young Sophie in the English-dubbed version of Howl's Moving Castle. She also appeared in The Pink Panther in 2006, as the love interest of Inspector Clouseau (Steve Martin), and will appear in the sequel. In the last three episodes of 30 Rock's first season, she played Phoebe, a love interest of Alec Baldwin's character Jack Donaghy.
In 2009, she will play what will undoubtedly become one of her most important roles to date, one of the title characters in Martin Scorsese's next film, Ashcliffe.