Emily Watson NUDE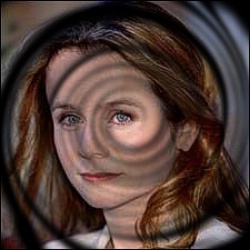 Emily Anita Watson (born 14 January 1967) is a two-time Academy Award-nominated, Screen Actors Guild Award-winning English actress known for her acclaimed debut film performance in Lars von Trier's Breaking the Waves.
Watson was born in Islington, London, England, the daughter of an architect father and an English professor mother.[1] She was raised in the Anglican religion.[2] Watson trained at Drama Studio London and holds a BA (1988, English) as well as an MA (2003, honorary) from Bristol University, UK. Watson married Jack Waters, whom she had met at the Royal Shakespeare Company, in 1995; their daughter, Juliet, was born in autumn 2005.[3]
Watson was virtually unknown until director Lars von Trier chose her to star in his controversial Breaking the Waves after the first choice, Helena Bonham Carter, dropped out over the uncompromisingly bleak eroticism and the graphic nudity demanded for the role. Her performance as Bess McNeill was her first in front of a camera, and became the most critically acclaimed of 1996. She won the Los Angeles, London and New York Critics Circle Awards, the US National Society of Film Critics Award for Best Actress, and ultimately an Oscar nomination.[4]

[edit] Subsequent career
She came to public notice again in another controversial role, as cellist Jacqueline du Pre in Hilary and Jackie, for which she learned to play the cello herself, and received another Oscar nomination. Despite this, many of du Pre's friends and fans decried the film's portrayal of her as inaccurate and unfair. She also played a leading role in Cradle Will Rock, a story of a theatre show in the 1930s, directed by Tim Robbins. Though she won the title role of Frank McCourt's mother in the adaptation of his much-loved memoir, Angela's Ashes, the film underperformed. In 2001, she appeared alongside John Turturro in chess biopic The Luzhin Defence, and as a member of Robert Altman's ensemble piece Gosford Park.[5]
In 2002 she starred as Reba McClane in the adaptation of Thomas Harris's The Silence of the Lambs prequel, Red Dragon, as the romantic interest of Adam Sandler in Paul Thomas Anderson's curious and quirky Punch-Drunk Love, and in the sci-fi action thriller Equilibrium alongside Christian Bale.
The following year she took time off from the cinema to play two roles in Sam Mendes's dovetailed stage productions of Uncle Vanya and Twelfth Night, first at Mendes's Donmar Warehouse in London and later at the Brooklyn Academy of Music. Her performance was widely acclaimed on both sides of the Atlantic and garnered her an Olivier Award nomination.[6]
In 2004 she received a Golden Globe nomination for her role as Peter Sellers's first wife, Anne Howe, in the HBO movie, The Life and Death of Peter Sellers.
2005 saw her starring in four films: Wah-Wah, Richard E. Grant's autobiographical directorial debut, for which she attended the UK premiere at the Edinburgh Festival; Separate Lies, directed by Gosford Park writer Julian Fellowes; Tim Burton's animated film Corpse Bride, alongside Johnny Depp and Helena Bonham Carter, and Nick Cave's Australian-set western, The Proposition. In 2006 she took a supporting role in Miss Potter, a biopic of children's author Beatrix Potter from Babe director Chris Noonan, with Ewan McGregor and Renée Zellweger, and also in an adaptation of Thea Beckman's children's novel Crusade in Jeans. In 2007, she appeared in The Water Horse: Legend of the Deep, an adaptation of the Dick King-Smith children's novel about the origin of the Loch Ness Monster.