Fiona Shaw NUDE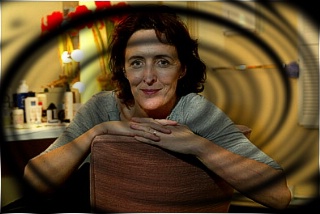 Fiona Shaw, CBE (Hon) (born July 10, 1958) is a leading Irish actress and theatre director. Although to international audiences she is probably most familiar for her minor role as Petunia Dursley in the Harry Potter films, she is regarded as one of the finest classical actresses of her generation.[1][2] Shaw was awarded an honorary CBE in 2001.
Shaw was born Fiona Mary Wilson in County Cork, Ireland, to a mixed-religious couple and was raised Catholic.[4][5] Her father was an eye surgeon[6] and her mother was a physicist.[7] She liked to be called "Fe Fe" in her childhood years and attended secondary school at Scoil Mhuire In Cork City. She received her degree in University College Cork. She trained at the Royal Academy of Dramatic Art (RADA) in London and was part of 'new wave' of actors to emerge from the Academy. Others included Jonathan Pryce, Juliet Stevenson, Alan Rickman, Anton Lesser, Bruce Payne and Kenneth Branagh. She received much acclaim as Julia in the National Theatre production of Richard Sheridan's The Rivals (1983), a role which demonstrated her gift for comedy. Despite her natural comic abilities, Shaw has opted more often than not for roles showcasing her extreme but unaffected emotional intensity. These performances have earned her numerous stage awards.
Her notable theatrical roles include Young Woman in Machinal, Celia in As You Like It (1984), Madame de Volanges in Les Liaisons Dangereuses (1985), Katherine in The Taming of the Shrew (1987), Winnie in Happy Days (2007), and the title roles in Electra (1988), The Good Person of Sechuan (1989), Hedda Gabler (1991), The Prime of Miss Jean Brodie (1998) and Medea (2000). She performed T. S. Eliot's poem The Waste Land as a one-person show at the Liberty Theatre in New York to great acclaim in 1996, winning the Drama Desk Award for Outstanding One-Person Show for her performance.Shaw played the lead in Richard II, directed by Deborah Warner in 1995. Shaw has collaborated with Warner on a number of occasions, on both stage and screen. Shaw has also worked in film and television, including My Left Foot, Jane Eyre, Persuasion, Gormenghast, and a number of the Harry Potter films in which she plays the insufferable Aunt Petunia.
Shaw had a brief but key role in Brian DePalma's The Black Dahlia.
In 2008, she directed her first opera, Riders to the Sea by Vaughan Williams at the ENO.
In March 2010 she will star in an NT revival of London Assurance.[9]