Gail Porter NUDE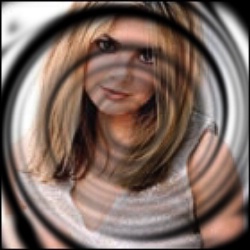 Gail Porter (born March 23, 1971 at the Simpson's Memorial Hospital in Edinburgh, Scotland), sometimes known by her married name Gail Hipgrave, is a British television presenter who became widely known after presenting Fully Booked in the late 1990s. Porter has tended to present family-friendly television programmes, or ones aimed directly at children, for example The Movie Chart Show, Top of the Pops, and Live & Kicking, work for CITV , and other programmes such as The Big Breakfast and Gail Porter's Big 90s for VH1 . Recently she presented three series of Dead Famous.
In the late-'90s she began to pose for photos in men's magazines such as FHM. Probably the best-known product of her many photo-sessions is one particular still in which she is seen completely nude from behind, but turning her head back to make eye contact with the camera, thus permitting a simultaneous full view of her face, back and bottom, and a glimpse of one of her breasts from the side.

Porter projected onto Parliament in 1999.The image became well known due to the events of one night in 1999, when FHM along with guerrilla marketing company Cunning Communications, beamed an enormous projection of it onto the exterior of the Houses of Parliament, with an accompanying message urging people to vote for Gail in the FHM Top 100 Sexiest Women Poll.[1]. Though not many people were around on the rainy Sunday night to witness the event firsthand, Floyd Hayes, creative director for Cunning Communications, estimates the campaign reached some 40 million people.[citation needed] In her autobiography, Porter claims that she did not know about the stunt until it was reported in the news the following day.[citation needed]
In 2001, Porter took part in the Reality TV show Celebrity Blind Man's Bluff[citation needed] and in 2003, she was a contestant on Channel 4's The Games, although injury truncated her participation.
She married Toploader guitarist Dan Hipgrave in August 2001, with whom she had a daughter, Honey, in 2002. They separated in the summer of 2004, and Porter has spoken publicly about her ensuing battles with stress, drugs and post-natal depression. In 2005 her conditions triggered alopecia areata, causing her to lose much of her hair.[2] She refused to wear a hat or wig, deciding instead to maintain a public profile and raise awareness of the condition. On an appearance on the Richard & Judy show February 15, 2006 she showed that her hair, eyebrows and eyelashes were drawn on with marker pen.[3] Recently there were rumours that her hair loss had been deemed permanent, these are however untrue. She herself refuted these rumours on 12 April 2006 saying "It is possible that I'm going to get my hair back