Genevieve Bujold NUDE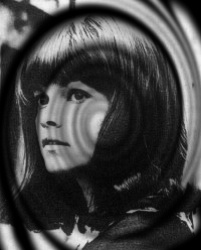 Geneviève Bujold (born July 1, 1942 in Montreal, Quebec) is an Oscar-nominated Canadian actress.
Dramatically trained at Montreal's Conservatory of Dramatic Art, she got her big break while on tour with a theatrical company in Paris, when French director Alain Resnais selected her for a role opposite Yves Montand in La Guerre est finie (1966). This led to her staying in France for a time where she made more films with noted French directors such as Louis Malle.
Bujold appeared in a variety of film roles for Canadian and U.S. television earning a 1967 Emmy Award nomination for her performance as Joan of Arc in an NBC "Hallmark Hall of Fame" presentation. That year, she married Canadian film director Paul Almond, who directed her in Isabel (1968), and Act of the Heart (1970), opposite Donald Sutherland. They had a son, Matthew, in 1968 and were divorced in 1972. Also in 1968, she won the Prix Suzanne Bianchetti as the most promising young actress in French film.
In 1969, she starred opposite Richard Burton in the film Anne of the Thousand Days. For her performance, she won the Golden Globe Award for Best Actress in a motion-picture drama as well as a nomination for the Academy Award for Best Actress.
Bujold was touted to become a star, but her temper led to run-ins with her employer Universal Studios and she walked away from her contract, resulting in a lawsuit (which was settled when she agreed to appear in the 1974 disaster film Earthquake). In the ensuing years she appeared in films such as The Trojan Women (1971, opposite Katharine Hepburn and Vanessa Redgrave), Kamouraska (1973), Brian De Palma's Obsession (1976), Alex and the Gypsy (1976, opposite Jack Lemmon), the medical thriller Coma (1978, opposite Michael Douglas), Choose Me (1984, directed by Alan Rudolph) and Tightrope (1984, starring Clint Eastwood). She won the Best Actress in a Leading Role Genie Award for Murder by Decree (1979).
In 1994, she signed on to play the lead character, Captain Nicole Janeway, in the American television series Star Trek: Voyager. However she dropped out after filming just a few scenes of the series' first episode. She cited a number of reasons, including a TV series work schedule being too demanding, differences with the producers on how to play the character and even claiming she was offended that producers wanted her to "pad" her uniform to give Janeway a more attractive figure for the Star Trek's predominantly male fan base. Kate Mulgrew replaced her and the character's name was changed to Kathryn Janeway.