Gillian Anderson NUDE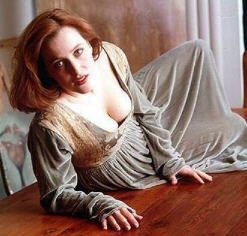 Gillian Leigh Anderson (born August 9, 1968) is an Emmy- and Golden Globe Award-winning American actress, best known for her roles as FBI Special Agent Dana Scully in the American TV series The X-Files and Lady Dedlock in the BBC TV series Bleak House.
Anderson was born in Chicago, Illinois, USA, the daughter of Rosemary, a computer analyst, and Edward Anderson, who owned a film post-production company.[1] Soon after her birth, her family moved to Puerto Rico for 15 months and then to Crouch End and finally Harringay[2] in London, so that her father could attend the London Film School. When Anderson was 11 years old, her family moved again, this time to Grand Rapids, Michigan. She attended Fountain Elementary and then City High-Middle School, a program for gifted students with a strong emphasis on the humanities; she graduated in 1986.
With her English accent and background, Anderson was mocked and felt out of place in the American Midwest and soon adopted a Midwest one. In addition, she had her nose pierced in the early 1980s and dyed her hair various colors. Her high school classmates voted her as "Most Bizarre," "Class Clown" and "Most Likely to be Arrested." Anderson was also caught trying to jam the high school doors by filling their locks with glue on the eve of her graduation.[3]
Anderson found an outlet for her talents when she began acting in high school and community theater productions, even serving as a student intern at the Grand Rapids Civic Theatre. She had wanted to be a marine biologist, but began acting instead at 17, with a few roles in various community theatre productions. Anderson attended The Theatre School at DePaul University in Chicago (formerly the Goodman School of Drama), where she earned a Bachelor of Fine Arts in 1990. She also participated in the National Theatre of Great Britain's summer program at Cornell University.

[edit] Career
Anderson moved to New York when she was 22 years old. She began her career in Alan Ayckbourn's play, Absent Friends, at the Manhattan Theatre Club in which Anderson played alongside Brenda Blethyn; she won the 1990-91 Theatre World "Newcomer" Award for her role. Her next theatrical role was in Christopher Hampton's The Philanthropist at the Long Wharf Theatre in New Haven, Connecticut. To support herself when she started her career, Anderson worked as a waitress.
Anderson moved to Los Angeles in 1992, spending a year auditioning. Although she had once vowed she would never do TV, being out of work for a year changed her mind. Anderson did Home Fires Burning for a cable station, as well as the audio book version of Exit to Eden. She broke into mainstream television in 1993, with a guest appearance on the collegiate drama, Class of '96, on the fledgling Fox Network.
As a result of her guest appearance in Class of 96, Anderson was sent the script for The X Files at the age of 24. She decided to audition because "for the first time in a long time, the script involved a strong, independent, intelligent woman as a lead character." Producer Chris Carter wanted to employ her, but Fox wanted someone with previous TV exposure and greater sex appeal.[4] Fox sent in more actresses, but Carter stood by Anderson, and she was eventually cast as Special Agent Dana Scully. Anderson got the part assuming it would run for 13 episodes, the standard minimum order for American TV networks. Filmed in Vancouver and then in Los Angeles, the series would run for nine seasons, and included one film (1998), and a second film scheduled for release in July 2008. During her time on The X Files, Anderson won several awards for her portrayal of Special Agent Scully, including an Emmy Award, Golden Globe and two Screen Actors Guild awards for "Best Actress in a Drama Series." While filming, Anderson met assistant art director Clyde Klotz, whom she would eventually marry.
Anderson is the youngest actress - at the age of 29 years old in 1997 - to win Outstanding Lead Actress in a Primetime Drama Series Emmy Award since Lindsay Wagner won at the age of 28 in 1977.
Anderson had roles in a handful of films during the run of The X-Files and starred in The House of Mirth, an adaptation of the Edith Wharton novel of the same name.
In 1999, Anderson had a supporting role in the English-language release of Hayao Miyazaki's Princess Mononoke, where she voiced the character of Moro. Anderson is a proclaimed lover of Miyazaki's work. She also took part in Eve Ensler's The Vagina Monologues.
When The X-Files ended, Anderson performed in several stage productions and worked on various film projects. She has participated in narrative work for documentaries on scientific topics. In 2005, she appeared as Lady Dedlock in the BBC television adaptation of Charles Dickens' novel Bleak House, had a starring role in the Irish film The Mighty Celt (for which she won an IFTA award for Best International Actress) and performed in A Cock and Bull Story, a film version of the novel Tristram Shandy.
In 2006, Anderson was nominated for a British Academy Television Award (BAFTA) for Best Actress and won the Broadcasting Press Guild Television and Radio Award for Best Actress for her role in Bleak House. Anderson also received an Emmy nomination for "Outstanding Lead Actress in a Miniseries or Movie" for her performance as Lady Dedlock. Furthermore, she was nominated for a Golden Satellite Award and Golden Globe for her performance in Bleak House and came in second place in the Best Actress category of the 2005 BBC Drama website poll for her performance as Lady Dedlock (Billie Piper came in first and Anna Maxwell Martin came in third).
During 2006 and 2007, Anderson appeared in two British films: The Last King of Scotland (2006) and Straightheads (2007).
In December 2007, it was announced that Anderson will host PBS' Masterpiece Theatre.
On December 10, 2007, Anderson began filming for The X-Files: I Want to Believe. Filming concluded on March 11, 2008. The movie will be released on July 25, 2008.