Helena Bonham Carter NUDE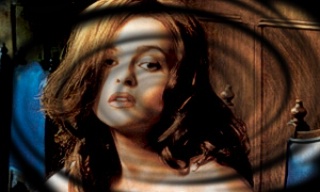 Helena Bonham Carter (born 26 May 1966) is an Academy Award- and Golden Globe-nominated English actress. She is best known for her portrayals of Bellatrix Lestrange in Harry Potter and the Order of the Phoenix, Marla Singer in the film Fight Club, Lucy Honeychurch in the film A Room with a View, her Oscar-nominated performance as Kate Croy in The Wings of the Dove, her Golden Globe-nominated performance as Mrs. Lovett in Sweeney Todd, and her collaborations with her domestic partner, Tim Burton.
Bonham Carter has not received any formal training in acting.[10] In 1979, she won a national writing contest and used the money won to pay for her entry into the actors directory 'Spotlight'. She made her professional acting début at the age of 16, in a television commercial. She also had a part in a minor TV film A Pattern of Roses (1983). Her first starring film role was in Lady Jane (1984, released 1986) which had mixed reviews. Her breakthrough performance was in the role of Lucy Honeychurch in A Room with a View (1985, released 1986) which was filmed after Lady Jane, but released first. Bonham Carter also appeared in episodes of Miami Vice as Don Johnson's love interest during the 1986-87 season.
These early films led to her being typecast as a "corset queen", and "English rose", playing pre- and early 20th century characters, particularly in Merchant-Ivory films. She eventually expanded her range,[10] and now has a high profile for more recent films such as Fight Club, Wallace & Gromit: The Curse of the Were-Rabbit, and Tim Burton's Charlie and the Chocolate Factory, Corpse Bride, and Big Fish. She also speaks French fluently, starring in a 1996 French film Portraits chinois. In August 2001, she was featured in Maxim. Bonham Carter was a member of the jury at the 2006 Cannes Film Festival that unanimously selected The Wind That Shakes the Barley as the best film.
Bonham Carter played Bellatrix Lestrange in Harry Potter and the Order of the Phoenix, which was released in 2007. She replaced Helen McCrory, who left due to pregnancy, (but will be portraying Narcissa Malfoy in the sixth and possibly seventh film adaptations). Bonham Carter received positive reviews as Lestrange, described as a "shining but underused talent";[11] her character will re-appear in the final three movie adaptations of the six and seventh books.[12] She then played Mrs. Lovett, Sweeney Todd's (Johnny Depp) amorous accomplice in the film adaptation of the Tony Award-winning Broadway musical, Sweeney Todd, the Demon Barber of Fleet Street. The film was released on December 21, 2007 in the US[13] and January 25, 2008 in the UK. Directed by Tim Burton, Bonham Carter received a Golden Globe nomination ("Best Actress - Comedy or Musical") for her performance, though she did not win. She also won the Best Actress award in the 2007 Evening Standard British Film Awards for her performances in Sweeney Todd and Conversations With Other Women.