Katie Hill NUDE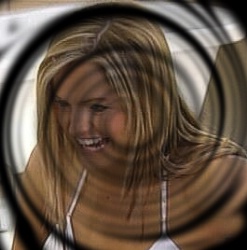 Katy Hill (born 15 April 1971) is a English television presenter, most famous for presenting BBC children's magazine show Blue Peter.
Born in Poole, Dorset, her father was the local vicar. Hill has two siblings, a brother Simon who is older and a sister Naomi who is younger. She gained 9 'O' levels and 4 'A' Levels at St. Edwards Church of England School in Romford, Essex and before she started acting she worked in a record shop.[1]

Hill began her career in media by doing voluntary work in Essex with EastWard hospital television, and then went on to present "Katy's Capers" on BBC Radio Essex, before transferring to Nickelodeon. While working for BBC channel controllers and the Head of Children's Television, as a BBC secretary she bombarded the Editor of Blue Peter with ideas and showreels, which resulted in an audition.
On 23 June 1995, Hill joined the children's TV programme Blue Peter, becoming its 23rd presenter[2]; she left Blue Peter on 19 June 2000. (Initially, she was regarded as the 22nd presenter, but moved down a place when Anita West was added to the official list of presenters in 1998.) Her assignments there included living in Mongolia with a family for a week, training with the England football squad for a World Cup special, joining the Cirque de Soleil and of course making things from yoghurt pots and sticky back plastic. She won the 2000 Children's BAFTA Award for Best Presenter, for her time at Blue Peter.
As a result of her Blue Peter role, she has also presented Live & Kicking, Top Of The Pops, Football Fever (she supports Newcastle United FC), and The Millennium Quiz Show alongside Michael Parkinson. Hill has also presented the weekend breakfast show on 95.8 Capital FM, and writes a regular column for Cosmopolitan Hair & Beauty Magazine
In both 2000 and 2001 she presented the final of the Song for Europe, the competition to select the United Kingdom's entry for the annual Eurovision Song Contest. She revealed she had been a keen follower of the contest since seeing the 1984 victory of her all-time favourite entry, "Diggi-Loo, Diggi-Ley" by Sweden's the Herreys.
In 2004, she appeared on the Channel 4 reality TV show, The Games, in which she came overall second in the female contenders. She is mostly remembered for her antagonism towards the eventual winner, Lady Isabella Hervey.
She co-presented the concert held in Trafalgar Square where the host of the 2012 Olympics was announced, for which London was a candidate. When London was announced as the victor, Katy was seen cheering and shouting with joy with Olympian Kelly Holmes.