Kate Humble NUDE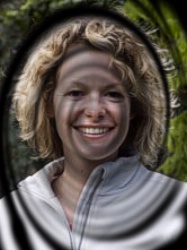 Katherine 'Kate' Humble (born 12 December 1968 in Wimbledon), is a UK television presenter, mainly for the BBC, specialising in wildlife and science programmes.
Humble grew up in Bray in Berkshire and attended the Abbey School in Reading." I was a very bad student. I had a fantastic Latin teacher which did mean I did Latin A Level but other than that my school career wasn't something to be proud of. "
After leaving school she travelled through Africa from Cape Town to Cairo, doing various jobs including waitressing, driving safari trucks and working on a crocodile farm. She has returned to Africa many times since. In 1994 she travelled around Madagascar, the subject of her first article for the Daily Telegraph travel section. Since then she has written articles about diving and cycling in Cuba, an 'exploding' lake in Cameroon, and hippopotamus conservation work in Ghana.
In 1990 she appeared naked in a TV production for the first time as an actress - The Secret Life of Ian Fleming - and was credited as "Lauren Heston .... The redhead".
Humble started her television career as a researcher, later transferring to presenting programmes such as Top Gear, Tomorrow's World and The Holiday Programme. Most recently Humble has specialised in presenting wildlife programmes, including Animal Park, Springwatch with Bill Oddie, Wild in Africa and SeaWatch.
In September 2001 Kate and her fellow presenters appeared naked in a report from Wreck Beach in Vancouver as part of the audience suggestions in the BBC's Holiday - "You Call The Shots" . As of 2008, this series has not been repeated on UK television.
Kate Humble will present BBC's The Blue Planet Live! on the UK tour. Humble will present the show at Wembley Arena, St. David's Hall in Cardiff and at Symphony Hall in Birmingham.
Her latest BBC television series is The Hottest Place On Earth, a record of a month spent living with the Afar people in Ethiopia's hostile Danakil Depression.
She occasionally performs on the lecture circuit with a show based on her experiences with wildlife, titled Harassed by Hippos and Battered by Cod: A Humble Way to Make a Living.