Kim Delaney NUDE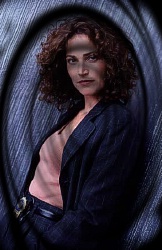 Kim Delaney (born 29 November 1961)[1][2] is an Emmy Award-winning American actress, best known for her role as Detective Diane Russell on the ABC drama N.Y.P.D. Blue.[3][4][5] But it was her iconic role as Jenny Gardner on the ABC daytime drama All My Children that first brought her fame, and a permanent place in the heart of many daytime television viewers. After All My Children, she went on to star in several other television series and films. She currently stars on the Lifetime television drama Army Wives.
Delaney, an Irish American, was born in Philadelphia, Pennsylvania, the daughter of Joan and Jack Delaney.[6] Delaney's mother was a homemaker and her father a union official and former head of the United Auto Workers.[7][8] She grew up in Roxborough and has four brothers: Ed, John, Keith, and Patrick. While she was attending J. W. Hallahan Catholic Girls High School, (as part of the class of 1977) she worked as a model for the Elite agency. After her graduation, she went to New York and found employment there as a model. At the same time, she studied acting with renowned trainer William Esper.

Delaney first became a Star for her stint as innocent teenager Jenny Gardner Nelson on the soap opera All My Children, a character she portrayed from August 1981 to August 1984. Her leading man was "Greg Nelson", played by Laurence Lau. After her marriage to "Greg", and at the height of her popularity (indeed, her Q rating in 1984, a ratio of an actor's likeability and recognizability, was the highest in daytime, outranking other daytime icons of the era like Susan Lucci, Deidre Hall, Genie Francis, and Tony Geary), Kim decided to leave the series; consequently, Jenny later died in an explosion of a jet ski. Delaney began acting in feature films after leaving All My Children. In 1985, she appeared with Emilio Estevez in "That Was Then, This is Now". In 1986, she played a young nun in the military action movie "The Delta Force", starring Chuck Norris. In 1987, she was cast as Amanda Jones in "Some Kind of Wonderful" opposite Peter Gallagher, but before filming, new director Howard Deutch replaced her with his future wife Lea Thompson (Gallagher's role was also recast, with Craig Sheffer). In 1994, she acted in the film The Force, with Yasmine Bleeth and Jason Gedrick.
Delaney has also worked steadily in television. In 1988, she became a regular on the CBS series Tour of Duty. Ironically, when she left that show in 1989 because she became pregnant in real life, her war journalist character died in an explosion, just as her All My Children character had exited 5 years earlier. In 1995, she began portraying the role of Det. Diane Russell on NYPD Blue. The role, originally meant to be short-term, became a regular gig when her character's relationship with Det. Bobby Simone (Jimmy Smits) became a hit with viewers. (This was a reunion for Delaney and Smits, who had starred together as the leads in the critically-lauded 1992 film The Broken Cord.) It was for this role that she won her first Emmy award, as Best Supporting Actress in a drama. Once Jimmy Smits left NYPD Blue, the writers found it difficult to give Delaney the spotlight they felt she deserved, and NYPD Blue producer Steven Bochco hand-picked her for the lead in his new show Philly, co-created and produced by Alison Cross. Despite critical acclaim, the show lasted only one season, as ABC was not satisfied with the middling ratings the show produced in its 10 PM Tuesday timeslot. (Ironically, it did better demographically than anything ABC has placed in that timeslot since). After Philly's cancellation, Delaney was courted by CBS to take on the female lead on its new fall drama CSI: Miami, a spin-off of sorts from the hit CSI. Her stint on that program ended abruptly in the middle of the first season after just 10 episodes for reasons never completely revealed to the public, but it has been said that her character was reportedly written out due to the lack of chemistry between Delaney and Caruso.[9] In 2004, she starred in the NBC miniseries 10.5 and its 2006 sequel, 10.5: Apocalypse. In 2005, she began a recurring role on The O.C. In 2006, she starred with Steven Weber in an episode of Nightmares and Dreamscapes: From the Stories of Stephen King entitled, "You Know They Got a Hell of a Band", about Rock and Roll Heaven.
Among her movie credits are Darkman II: The Return of Durant (1994).[10]
Her CSI: Miami co-star, David Caruso, had also previously starred on NYPD Blue but left the show before Delaney joined it. She appeared twice on Law & Order: Special Victims Unit in early 2007, guest-starring on the episodes "Philadelphia" and "Florida". She played the character Captain Julia Millfield, who was the captain of a police precinct in New Jersey.
She plays the character Claudia Joy Holden on Lifetime TV's Army Wives. She was nominated three times for an Emmy for Best Supporting Actress on NYPD Blue, and won once. She was also nominated twice for a Daytime Emmy years earlier for her role on All My Children.
Delaney has been married twice, to actor Charles Grant from 1984 to 1988, and to actor Joseph Cortese from 1989 to 1994. She gave birth to son John "Jack" Philip Cortese in 1990. She was engaged to producer Alan Barnette from 1997-2006, but Delaney is currently single.
In 2002, Delaney was arrested for suspicion of drunk driving after she refused to take a breathalyzer test.[11] She subsequently pleaded no contest and was sentenced to two years' probation, fined, and ordered to take a safe-driving class.