Laetitia Casta NUDE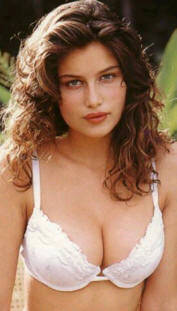 Laetitia Marie Laure Casta (born May 11, 1978 in Pont-Audemer, Normandy) is a French model and actress.
Casta's mother, Line Blin, is from Normandy. Her father, Dominique Casta, is from Corsica. She has an older brother, Jean-Baptiste, and a younger sister, Marie-Ange. She spent her childhood in Normandy and Noisy-le-Grand (93 - France). On October 19, 2001, she gave birth to her daughter Sahteene. The father is her former boyfriend Stéphane Sednaoui. Casta is engaged to Italian actor Stefano Accorsi. They have one son together, Orlando, born on September 24, 2006.
Casta's career reportedly began when she was discovered by a photographer during a family holiday in her father's native Corsica, at age 15.[citation needed]"David Letterman interview". http://www.youtube.com/watch?v=i65ixhmsRyY. Retrieved on 1999.
Casta was the official face of L'Oréal, Dior, and Chanel. She was featured in Guess? Jeans, Tommy Hilfiger, Miu Miu and XOXO ad campaigns. Casta has appeared on over 100 magazine covers including Victoria's Secret catalogs, ELLE magazine, and Vogue magazine. She also appeared in three consecutive Sports Illustrated Swimsuit Issue, Rolling Stone, and a Pirelli Calendar. She is now the face of Ralph Lauren's newest fragrance, Notorious.
She once had a close relationship with designer Yves St. Laurent, whose outfits she would regularly wear at public appearances.

Casta has made forays into Francophone film and television productions, including Astérix et Obélix contre César (known as Astérix and Obélix vs. César in English language versions), a live-action film of the Astérix world in which she plays a potential love interest for Obélix, portrayed by Gérard Depardieu. More recently, Casta appeared in Les Âmes Fortes, a dramatic film directed by Raùl Ruiz.[1]
Casta was also prominently featured in the music video for the Chris Isaak song "Baby Did a Bad, Bad Thing" in 1999. Through most of the video, Casta was seen in a motel room and sexy lingerie while being watched by Isaak in the next room. There were two versions of the video. VH1 aired the censored version before 9 p.m. and the uncensored version was aired after 9 p.m. witching hour. This video was ranked #28 on VH1's 50 Sexiest Video Moments. The video was regarded as too steamy by the network. She is also the subject of a song written by popular alternative rock band, Brand New, in their song "Magazines".