Leah Remini NUDE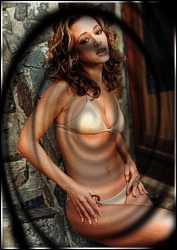 Leah Remini (born June 15, 1970) is an American actress best known for her role as Carrie Heffernan on the CBS sitcom The King of Queens.
Leah Remini was born in Bensonhurst, Brooklyn, New York. Her parents are Austria-born Vicki Marshall (a former high school principal and current LA restaurant owner) and Italian-American George Remini, owner of an asbestos company (not to be confused with the late Gambino crime family captain George Remini, who died in March 2007).
Remini has an older sister, Nicole Remini (born 1969) who was her assistant on The King of Queens. She also has four half-sisters: Christina Remini (born 1969 [1]), Elizabeth Remini (born 1976), Stephanie Remini (born 1977), and Shannon Remini (born 1984). Shannon has acted on Leah's show as a character named "Desiree."
Remini moved to Los Angeles at the age of 13. She tried fitting into her new neighborhood by imitating the look and style of the local Mexican-American culture. When Remini was 14, she left school against the advice of her mother.
At the beginning of her working life, Remini had a variety of jobs, such as waitressing, selling car insurance, and as a telemarketer for a solar heating company.
Remini stands 5' 3" (1.60 m) tall [2].
Remini's entrance into television came in the mid-'80s, when she got her first speaking line as an actress on an episode of Head of the Class. Later she was on the show Cheers where she appeared as Carla Tortelli's daughter, Serafina, on two episodes. In 1989, Leah played the lead on Living Dolls, a short-lived spin-off from Who's the Boss?.
In 1991, she had a recurring role as, Stacey Carosi, a love interest of Zack Morris, on Saved by the Bell. During the summer when the gang worked at the Malibu Sands Beach Club she gained popularity among teens as Zack's summer love interest. In 1991 she also starred in the short-lived sitcom The Man in the Family.
Remini also guest starred in The Commish, where her character was involved in the plot line responsible for Geoffrey Nauft's departure from the show. Remini gained some popularity with her role as Terri Reynolds, on the 1997 NBC comedy series, Fired Up.
She starred for nine years as the tough main character, Carrie, on the TV sitcom The King of Queens.
She had several guest appearances on shows such as Evening Shade, Diagnosis: Murder, NYPD Blue and Friends (in the Season 1 episode "The One with the Birth"). She originally auditioned for the part of Monica Geller but did not get the role and instead was considered for the role of Rachel Green.
Remini appeared on an episode of MTV Cribs.