Linda Hayden NUDE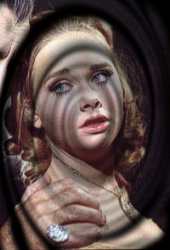 Linda Hayden (born 19 January 1953 in Stanmore, Middlesex) is an English film and television actress, best known for her roles in 1970s British horror films and sex comedies.
Linda Hayden's first role was at the age of 15, in the 1968 film Baby Love, in which she plays a schoolgirl who seduces her adoptive family. This was a stepping stone to later roles as a luscious vamp in horror productions, notably Blood on Satan's Claw. She appeared nude in both movies, with a memorable full-frontal sequence in the latter, although she was fifteen and seventeen respectively at the time of filming. In a magazine interview, she also claimed to have lost her virginity during the publicity tour for Baby Love.
Hayden appeared opposite her then-boyfriend, actor Robin Askwith, in the popular sex comedies Confessions of a Window Cleaner (1974), Confessions from a Holiday Camp (1977) and Let's Get Laid (1976, with Fiona Richmond), as well as the obscure cult movie Queen Kong (1976) and on stage with him in the farce "Who Goes Bare". She and Richmond were reunited in the controversial thriller Expose (1977).
Following a brief role in The Boys from Brazil (1978), Hayden concentrated on stage and tv work, most recently in a 1997 episode of The Bill. She is now semi-retired.