Lisa Faulkner NUDE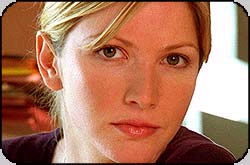 Lisa Faulkner, (born 2 January 1973), is an English actress. Faulkner was educated at Tiffin Girls' School, Kingston upon Thames, Greater London.
At the age of 16, she was approached by a modelling scout while she was playing her banjo in a tube station. This resulted in a successful career as a teenage model.
In 1992, she made her first acting appearance in The Lover, co-starring with Jane March. At age 21, she played the part of Alison Dangerfield in the British TV drama Dangerfield. She also starred in the 1994 British film A Feast at Midnight. In 1996 she appeared in And The Beat Goes On. In 1998, she played Louise Hope in the Channel 4 soap Brookside. Between 1998 and 2001, she played Dr Victoria Merrick on Holby City, before her character was stabbed to death in her own home by the father of a patient whose life she couldn't save.
In the TV show Spooks, her character suffered a particularly gruesome fate that many viewers found disturbing. In only the second episode of the first series, Faulkner's character had her hand burnt in a deep fat fryer, and was violently killed, setting a precedent for later deaths in Spooks.[2]
In 2004, she starred as D.S. Scribbins ("Scribbs") in Murder in Suburbia on ITV where she played a CID policewoman in company with Caroline Catz who played her inspector, D.C.I. Ashurst. The show returned for a second series in 2005, with Scribbs adopting the then popular fashion style of "boho-chic". In 2006, she starred in the TV series New Street Law.
It was rumoured that Faulkner had been short listed to play the role of D.I. Alex Drake in Ashes to Ashes, the sequel series to Life on Mars.[3] However, Faulkner's former Spooks co-star Keeley Hawes was subsequently cast in the role.
In June 2008, Lisa provided narration for the second series of BBC1 show 'Heir Hunters', replacing Nadia Sawalha.[4]

In 2005 ,she married Chris Coghill, her co-star from the TV series Burn It in Richmond Park, South West London.
She had been selected as one of FHM's "100 sexiest women in the world" six times between 1999 and 2004.
She regularly teaches at Amanda Redman's Artists Theatre School
In January 2007, Lisa beat Mr T 3-2 in a best of 5 charity arm wrestling fete.
She has been a regular contributor on Big Brother's Little Brother, a magazine programme about the reality UK TV show Big Brother broadcast on Channel 4.
It has been inaccurately stated from some sources she is the daughter of actress Sally Faulkner. In fact her mother, Julie, died of cancer when Lisa was 16. She has discussed in several interviews her feelings about her mother's untimely death