Liz May Brice NUDE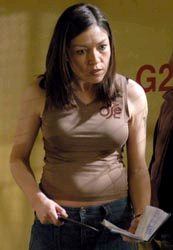 Elizabeth May Brice (born 1975) is an English actress. She is known as convicted murderer Pat Kerrigan on ITV1's Bad Girls. To international audiences she may be more familiar as a minor cast member of the horror films Resident Evil and AVP: Alien vs Predator.
Brice was born in Redhill, Surrey. She studied English at Cambridge University. Her early acting roles included a schoolgirl witch in the 1986 adaptation of Jill Murphy's novel, The Worst Witch and a part in children's sitcom News at Twelve (1988) (for both these roles she was credited as "Lisa" Brice). She joined the cast of prison drama Bad Girls in Series 7, in 2005 as Pat Kerrigan, who is serving life in prison for the murder of her ex-boyfriend. Her character would become the final 'Top Dog' of the show before it was axed in 2006.
Liz has appeared in episodes of BBC's Hustle and has a small though arguably memorable part in the big screen version of Resident Evil. She had another minor role in another horror flick, AVP: Alien vs Predator. Her CV also includes the film sequel Fortress 2 with Christopher Lambert and the US mini-series The 10th Kingdom. Liz also appeared in the popular Channel 4 sitcom "Peep Show" in 2007.
It was rumoured that Liz had been shortlisted to play the role of DCI Gene Hunt's new sidekick, DI Alex Drake in Ashes to Ashes - the sequel series to Life on Mars. However, the BBC has announced that Keeley Hawes had landed the role.[citation needed]
She has also starred in her former partner Charlie Brooker's zombie horror Dead Set, and is set to appear on the next series of Torchwood, due for air in 2009. She has also starred in The Bill as an anti-terrorism officer.