Louise Jameson NUDE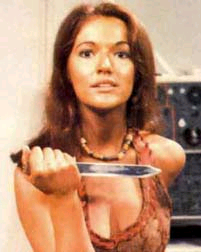 Louise Jameson (born 20 April 1951 in Wanstead, London) is an English actress, most famous for playing Leela, the leather-clad barbarian warrior companion of the fourth Doctor in the long-running science fiction television series Doctor Who. Jameson has also appeared on Emmerdale (as Sharon Crossthwaite), The Omega Factor (as Dr. Anne Reynolds), Tenko (as Blanche Simmons), Bergerac (as Susan Young) and EastEnders (as Rosa di Marco). She is currently working on BBC Scotland soap River City and will appear on screen from April as Viv Roberts.[1]
Jameson attended the Royal Academy of Dramatic Art and spent two years with the Royal Shakespeare Company, performing in Romeo and Juliet, The Taming of the Shrew, King Lear, and Blithe Spirit. Other stage appearances include the first production of Passion Play.
She reprised the character of Leela in the charity special Dimensions in Time and for the Doctor Who audio plays produced by Big Finish Productions.
Jameson had two sons in the 1980's, Harry and Tom, with her life-partner David Warwick. She is also good friends with her Big Finish Productions co-star Lalla Ward. In 2008, she guest starred in the Sapphire and Steel drama Wall of Darkness for the same company.
Jameson is the subject of MJTV's The Actor Speaks Volume 5, where she discusses herself, her acting career and the various series she has been in.
In 2007, Jameson toured nationally in her one-woman show, Face Value, inspired by her near decision to have a face-lift.[2]
In April 2008, she joined the cast of the BBC Scotland soap opera "River City"
For many years she lived in Tunbridge Wells, Kent.
Jameson was a regular visitor in British prisons during the first few years of her career, and during the early 1970s she met Leslie Grantham at Leyhill Prison in Gloucestershire, while he was serving 12 years of a life sentence for murder. She encouraged Grantham to be an actor, and by 1985 he had secured the much acclaimed role of Den Watts in EastEnders.