Lynda Carter NUDE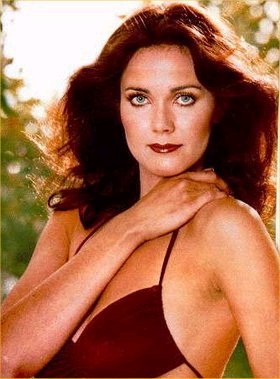 Lynda Carter (born July 24, 1951) is an American actress and singer. She is best known for the Amazonian title role in the fantasy-adventure television series Wonder Woman which aired from 1975 to 1979.
Carter was born Linda Jean Córdova Carter in Phoenix, Arizona.[2] Her father, Colby Carter is an Irish American,[1] and her mother, Juana Córdova, is of Mexican and Spanish ancestry.[1] Carter grew up an avid reader of the Wonder Woman comic books. She went to Globe High School in Globe, Arizona and Arcadia High School, in Phoenix. She attended Arizona State University, but after being voted the "most talented" student, she dropped out in order to pursue a career in music. She toured as a singer with several rock groups before returning to Arizona in 1972.
Carter entered a local beauty contest and achieved her first national fame by winning Miss World USA, in 1972, representing Arizona.[1] As the United States entrant in the Miss World pageant she reached the semi-finals. After taking acting classes at several New York acting schools, she began making appearances on TV shows such as Starsky and Hutch, Cos and Nakia and B-movies including her only nude appearances in "Bobbie Jo and the Outlaw" (1976).
Her acting career did not take off until she landed her starring role in the Wonder Woman television series. Her earnest performance endeared her to fans and critics and the series lasted for three seasons. Thirty years after first taking on the role, Carter continues to be closely identified with Wonder Woman, so much so that it has proved difficult for producers to find a suitable candidate to play the character in subsequent aborted productions (work on the most recent attempt was announced in 2005).
Carter's other credits include the title role in a 1983 biopic of Rita Hayworth titled Love Goddess, and a variety of her own television specials: Lynda Carter's Special (1980), Encore! (1980), Celebration (1981), Street Life (1982) and Body And Soul (1984). She also starred in a few short-lived TV series, including, Partners in Crime, with Loni Anderson, in 1984, and, Hawkeye, with Lee Horsley. During the late 1970s, she recorded the album, Portrait, and made numerous guest appearances on variety television programs in a musical capacity. She also sang two of her songs in the Wonder Woman episode, "Amazon Hot Wax."
In 2001, Carter was cast in the independent comedy feature, Super Troopers, as, "Vermont Governor Jessman." The writer-stars of the film, the comedy troupe, Broken Lizard, with member Jay Chandrasekhar directing, had specifically sought Carter for the role, with plans to approach other television actresses of the 1970s had Carter declined. Carter had her first appearance in a major feature film in a number of years in the 2005 big-screen remake of The Dukes of Hazzard, also directed by Chandrasekhar. She also played in the 2005 movie, Sky High, as "Principal Powers," the head of a school for superheroes. The script allowed for Carter to poke fun at her most famous character when she states: "What a waste. I can't do anything more to help you. I'm not Wonder Woman, y'know." Lynda returned to the DC Comics' television world on the 2007 episode of Smallville, titled "Progeny," playing Chloe Sullivan's Kryptonite-empowered mother.
Carter has also done voiceovers for video games, performing voices for the nord and orsimer (orc) females in two computer games of The Elder Scrolls series, The Elder Scrolls III: Morrowind and The Elder Scrolls IV: Oblivion. These games were developed by Bethesda Softworks, of which her husband Robert Altman (not to be confused with the late Hollywood director) is Chairman and CEO.
From September 26, 2005, until November of that year, Carter played the role of "Mama Morton," in the West End London production of Chicago.[3] Her rendition of "When You're Good to Mama" was officially released on the Chicago: 10th Anniversary Edition CD box set in October of 2006. Receiving positive response to the song's release, Lynda booked her own cabaret tour act. It was first scheduled in San Francisco, at the York Hotel's Empire Plush Room, from May 1 - 6, 2007, and proceeded to tour around the U.S. Lynda also marked July 17, 2007 as the date to record her second solo musical release