Martine Beswick NUDE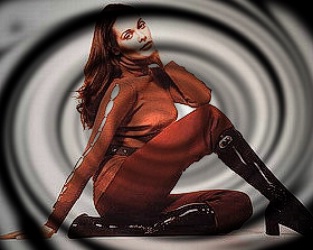 Martine Beswick, born September 26, 1941, in Port Antonio, Jamaica, to British parents, is an actress and model, best known for her roles in two James Bond movies.
Beswick had wanted to be an actress since she was four years old. In her teens her family moved to London. In 1958, when she was only 17, she entered a beauty pageant, won it, sold the prize (a brand new car) and used the money to move back to England, where she was determined to fulfil her life-long dream of becoming an actress. She went on to become a model.
Beswick is best known for her two appearances in the James Bond film series. Although she auditioned for the first Bond film Dr. No, she was cast in the second film From Russia with Love as the fiery gypsy girl Zora. She engaged in the famous "catfight" scene with her rival Vida (played by former Miss Israel Aliza Gur). She was incorrectly billed as "Martin Beswick" in the title sequence. Beswick then appeared as the ill-fated Paula Caplan in Thunderball. She had been away from the Caribbean so long that she was required to sunbathe constantly for two weeks before filming, in order to look like a local.
Martine went on to appear in One Million Years B.C. opposite Raquel Welch, with whom she also engaged in a catfight. She then appeared in various Hammer Studio low budget films, most notably Prehistoric Women and the gender-bending Dr. Jekyll and Sister Hyde. She played Adelita in the well-regarded spaghetti western A Bullet for the General in 1967 opposite Klaus Kinski and Gian Maria Volonte. In the 1970s, Beswick moved to Hollywood and regularly appeared on both the big screen and small screen. She made numerous guest appearances in TV series including Sledge Hammer!, Fantasy Island, The Fall Guy, Mannix, The Six Million Dollar Man and Falcon Crest. In 1980 she played the lead role in the film The Happy Hooker Goes to Hollywood.
Beswick's career was active well into the 1990s. In recent years she has mainly participated in film documentaries, providing commentary and relating her experiences on the many films she has appeared in. She also owns a successful removals business in London.
Contrary to speculation recorded elsewhere Beswick never married and was not one of the silhouetted dancing girls in the opening credits to Dr. No.