Miranda Richardson NUDE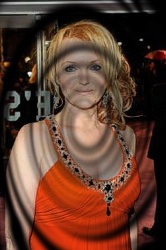 Miranda Jane Richardson (born 3 March 1958) is an English stage, film and television actress.
Richardson was born and raised in Southport, (then part of Lancashire now in Merseyside), England to Marian Georgina (née Townsend), a housewife, and William Alan Richardson, a marketing executive.[1] The second daughter in a middle-class family, she revealed a talent for acting from an early age. She had originally intended to study veterinary medicine, but her squeamishness made this impractical.
Richardson enrolled at the Bristol Old Vic Theatre School[2], where she studied alongside Daniel Day-Lewis. In 1981, she made her stage debut in Moving at the Queen's Theatre in London. Before making a name for herself as a screen star, she enjoyed a hugely successful and extensive theatre career. Starting out with juvenile performances in Cinderella (the title role) and Lord Arthur Saville's Crime (as Sybil Merton) at the Southport Dramatic Club, the young thespian enrolled at the Bristol Old Vic Theatre School, making her stage debut in Moving at the Queen's Theatre, London. Soon afterwards, she appeared in repertory theatre, until she found recognition in the West End for a series of highly praised stage performances, ultimately receiving an Olivier Award nomination for her performance in A Lie of the Mind[3], and in 1996 being cited as 'the greatest actress of our time in any medium' by one critic after she appeared in Orlando at the Edinburgh Festival.
Richardson will return to the London stage for the first time in ten years, to play the lead in Wallace Shawn's new play, Grasses of a Thousand Colours at the Royal Court Theatre in May 2009. [4]
In 1985, Richardson made her big-screen debut as platinum blonde nightclub hostess Ruth Ellis, the last woman to be hanged in the United Kingdom in Mike Newell's critically acclaimed biographical drama, Dance With A Stranger. Her performance won her much praise, and within a year she had been cast by Steven Spielberg to appear in his World War II drama, Empire of the Sun (1987).
Richardson is well-known for her role as an infantile Queen Elizabeth I, aka Queenie, in the British television comedy Blackadder II (1986). Her portrayal of a troubled theatre-goer in Secret Friends (BBC 2 TV, 1990) was described as "a miniature tour de force... Miranda Richardson's finest hour, all in ten minutes" (The Sunday Times). Other television roles include the bitchy Pamela Flitton in A Dance to the Music of Time (1997), Miss Gilchrist in St. Ives (1998), Bettina the obsessive-compulsive interior decorator in Absolutely Fabulous, the sadistic Queen Elspeth in Hallmark's Snow White: The Fairest Of Them All (2001), and the emotionally repressed Queen Mary in The Lost Prince (2003).
Richardson has appeared in a number of high-profile supporting roles in the cinema, including Vanessa Bell in The Hours, Lady Van Tassel in Sleepy Hollow and Patsy Carpenter in The Evening Star. She also won acclaim for her performances in The Crying Game and Enchanted April, for which she won a Golden Globe, beating a quartet of Hollywood heavyweights: Geena Davis, Whoopi Goldberg, Shirley MacLaine and Meryl Streep.
Two of Richardson's Academy Award nominations (for Damage and Tom & Viv) have not affected her modesty. However, she refuses to discuss her private life in interviews and takes both leading and supporting roles in a variety of genres.