Natasha Henstridge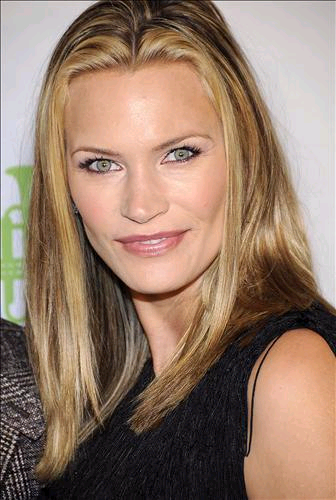 Natasha T. Henstridge (born August 15, 1974) is a Canadian fashion model turned actress. Her most notable on-screen roles include Species, The Whole Nine Yards, The Whole Ten Yards and the Canadian TV mini-series Would Be Kings for which she won the Gemini Award for best actress. She currently plays the role of Taylor Wethersby in the TV Series "Eli Stone".Henstridge was born in Springdale, Newfoundland and Labrador, the daughter of Helen, a homemaker, and Brian Henstridge, a biker/contractor.[1][2] She was raised in Fort McMurray, Alberta, Canada with younger brother, Shane. At the age of thirteen, she entered the Casablanca Modeling Agency's "Look of the Year" contest and was chosen first runner-up. The following year, Henstridge went to Paris to pursue her modeling ambitions. At fifteen, she was featured on her first magazine cover, the French edition of Cosmopolitan. Several magazine covers followed and Henstridge went on to do television commercials for products such as Olay, Old Spice, and Lady Stetson. Her modeling career established, Henstridge moved on to a career in movies.
In her movie debut Species, Henstridge played "Sil", a genetically engineered alien/human hybrid created from a message received by SETI, who breaks free from the captivity of a laboratory when her overseers attempt to "euthanize" her. Pursued by a team of experts who band together to stop her before her "Species" multiplies, Sil embarks on a killing spree while also discovering her powerful instinct to mate. Species was an instant hit, raking in $113 Million (USD).[3] Notable for its sexual content, the film won Henstridge the MTV Movie award for "best kiss" for a scene in which her character, while kissing an aggressive would-be suitor, impales his head on her tongue.
The movie gave Henstridge a platform to launch her acting career, but most of the following movies she appeared in were not as successful. Species spawned a sequel Species II, in which a male alien was attempting to mate with Eve, a genetic duplicate of Sil.
Eve was played as gentle and more docile than the original Sil, creating an air of sympathy for the character who spends the majority of the movie imprisoned in a glass habitat and undergoing painful experiments. The film was a failure at the box office, taking in $19 million (USD) domestically. A few smaller independent movies followed, including Bela Donna and Dog Park, with varied box office returns. She also starred opposite Jean-Claude Van Damme in the action/adventure movie Maximum Risk. Despite having some reservations about the sci-fi genre, she signed up for John Carpenter's Ghosts of Mars in the lead role and reprised her role as Eve in a brief cameo in Species III. Ghosts of Mars was not well-received, with a 21% rating in Rotten Tomatoes.[4]
In 2000, she starred in The Whole Nine Yards and its 2004 sequel The Whole Ten Yards.