Nicola Bryant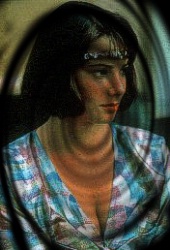 Nicola Bryant (born 11 October 1964 in Guildford, Surrey) is an English actress known for her role as Perpugilliam "Peri" Brown, a companion of the Doctor in the BBC science fiction television series Doctor Who.
The daughter of Sheila and Denis Bryant, Bryant grew up in a village in Surrey, near Guildford. She started dance classes at the age of three and also began to learn the piano. At the age of ten she auditioned to go to ballet schools, but was unable to take up places offered because of asthma. Upset by this development, she joined a local amateur dramatic group. On leaving school, she auditioned for all of the London drama schools and took up a scholarship to the Webber Douglas Academy of Dramatic Art. In her final year there, she played the part of Nanette in a production of the musical No, No, Nanette.
Bryant's first professional part was as Peri Brown in Doctor Who.[1] She played the part from 1984 to 1986, first with Peter Davison, and then with Colin Baker as the Doctor. Bryant's tenure on the show was met with raised eyebrows in some quarters as series producer John Nathan-Turner admitted (in his book Doctor Who: The Companions and elsewhere) that his intention was to pump up the sex appeal of the ageing series by casting the young actress who was often seen wearing revealing outfits in the show. Her character was American and for a while a publicity-driven fiction was maintained suggesting Bryant was also American. During her final season on Doctor Who, the actress was allowed to dress more conservatively on the show.
After appearing in Doctor Who, Bryant spent nine months at the Savoy Theatre in the West End of London in the thriller Killing Jessica with Patrick Macnee, directed by Bryan Forbes.[1] She went on to have other television roles, including a part in Blackadder's Christmas Carol. In the early-mid 1990s, she also co-starred with Baker in a series of made-for-video science fiction films entitled The Stranger for BBV, although the first few films in the series were little more than Doctor Who episodes in disguise. She also appeared alongside Baker, Davison, Sylvester McCoy and Jon Pertwee in another BBV production, The Airzone Solution which is notable as it includes a love scene between Baker and Bryant.
Bryant has reprised the role of Peri in several of the Big Finish Productions Doctor Who spin-off audio plays. She has appeared with both Peter Davison and Colin Baker in these. She also directed UNIT: The Wasting and Judge Dredd: 99 Code Red!.
In February 2006, she performed in a New End Theatre production of the Carl Djerassi play Taboos, and in early 2007 appeared in a London stage production of Tom Stoppard's Rock 'n' Roll at the Duke of York's Theatre. A DVD documentary, "In The Footsteps of The Two Doctors", following Nicola's return to some of the locations featured in the Doctor Who serial The Two Doctors was released in late 2006.
Nicola has returned to the stage in 2008/2009, in a touring production, in an adaptation of Daphne du Maurier's Don't Look Now, playing the part of Laura Baxter.