Nicola Pagett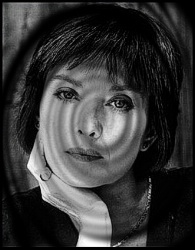 Nicola Pagett (born Nicola Scott, 15 June 1945, Cairo, Egypt) is an English actress.
She was educated at St. Maur International School, in Yokohama, Japan, the oldest international school in Asia.
Pagett is best known for her role as Elizabeth Bellamy in the 1970s TV drama series Upstairs, Downstairs.
She also played the title role in a 1977 BBC adaptation of Anna Karenina, and she gave a memorable performance in David Nobbs's TV series 'A Bit of a Do'. She was in a variety of films including The Viking Queen and Oliver's Story. Pagett also played a lead role in the 1994 to 1995 sitcom Ain't Misbehavin'.

Nicola Pagett has suffered from manic depression, and chronicled her experiences with this in a 1998 book titled Diamonds Behind My Eyes. In 1995, while appearing in What The Butler Saw at the National Theatre, she began behaving erratically and was ultimately diagnosed as having acute manic depression. During this time she developed an obsession with Alastair Campbell.[1] According to Adam Boulton Alastair Campbell used this obsession to distract attention from negative headlines about the New Labour Party Conference.[2] She was later escorted from her home by four men to be confined in a closed psychiatric unit, but has since been able to control her illness with medication and self-awareness.