Olivia Williams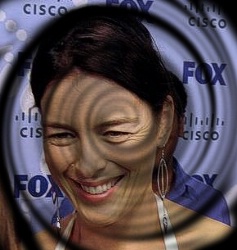 Olivia Haigh Williams (born 26 July 1968) is an English film, stage and television actress who has appeared in British and American films. She currently stars in the Joss Whedon sci-fi drama Dollhouse.
Williams was born in Camden Town, London, England.[1] Both her parents are barristers.[2] She graduated from Newnham College, Cambridge with a degree in English literature,[1] then studied drama at the Bristol Old Vic Theatre School for two years.
After graduation, Williams worked with the Royal Shakespeare Company in both Stratford-upon-Avon and London and in 1995 toured the United States in a production of Shakespeare's Richard III starring Ian McKellen. Her first significant appearance before the cameras was as Jane Fairfax in the British TV film Emma (1996), based on Jane Austen's 1816 novel, which aired in the US on the A&E Network.
Williams made her film debut in 1997's The Postman, after doing a screen test for Kevin Costner. She later won the lead role of Rosemary Cross in Wes Anderson's Rushmore (1998).[3] She then starred as Bruce Willis' wife in the blockbuster The Sixth Sense (1999). Since then, Williams has appeared in several British films, including Lucky Break (2001) and The Heart of Me (2002), for which she won the British Independent Film Award for Best Actress. She also played Mrs. Darling in the latest film adaptation of Peter Pan. Williams was uncredited for her role as Dr. Moira MacTaggert in the 2006 film X-Men: The Last Stand. On TV, Williams portrayed British author Jane Austen in Miss Austen Regrets (2008) and currently stars as a principal character in Joss Whedon's new show Dollhouse, which premiered on February 13, 2009 on Fox.[4]
In 2000 she wrote and read the short story The Significance Of Hair for BBC Radio.