R ebecca Romijn Stamos NUDE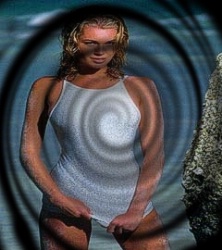 Rebecca Alie Romijn (pronounced ro-MAIN; born November 6, 1972) is an American actress (1997-present) and former model (1992-2000). She is best known for her role as Mystique in the X-Men films, and for her role as Alexis Meade on the hit show Ugly Betty.

Romijn (pronounced "Ro-MEIN" in the USA — its proper Dutch pronunciation is [ro:'m?in]) — [2] was born in Berkeley, California, the daughter of Elizabeth (née Kuizenga), a Community College teacher of English as a Second Language and textbook author, and Jaap Romijn, a custom furniture maker.[3][4] Her father is a native of Barneveld, in the Netherlands, and her mother is a third-generation Dutch American[5] who met Romijn's father while staying in the Netherlands on a teen-age exchange program.[6] Romijn's maternal grandfather, Dr. Henry B. Kuizenga, was a Presbyterian minister and seminary professor.[7] Many sources say that she was once nicknamed the "Jolly Blonde Giant" because of her height, but she has admitted to making that up "for a laugh".[8] While studying music (voice) at the University of California, Santa Cruz,[9] she became involved with fashion modeling and eventually moved to Paris for more than two years. She stands 5 feet 11. inches (1.80 m) tall.
Among other jobs, Romijn started her modeling career in 1992. She modeled for the swimsuit issue of Sports Illustrated, Victoria's Secret, Bebe and for Anna Molinari Runway, along with the famous Super-Models such as Claudia Schiffer, Kate Moss, Naomi Campbell, Linda Evangelista, Cindy Crawford, and Christy Turlington. She also was the host of MTV's House of Style from 1998 to 2000. Rebecca is a fixture on annual lists of the world's most beautiful women by publications such as Maxim (2003–2007), AskMen.com (2001–2003, 2005–2006) and FHM (2000–2005).[10] She also appeared as a guest in the animated talk show Space Ghost Coast to Coast in an episode titled "Chinatown."
In 2000's X-Men, Romijn had her first major movie role as Mystique; she returned to the role in 2003's sequel X2: X-Men United, and again for X-Men: The Last Stand (2006). In these movies her costume consisted of blue makeup and some strategically placed prosthetics on her otherwise nude body. In X2: X-Men United she shows up in a bar in one scene in her "normal" look, and also in X-Men: The Last Stand, she appears as a dark-haired "de-powered" Mystique. She had her first leading role in Brian De Palma's Femme Fatale (2002). She also has starred in movies such as Rollerball, The Punisher and Godsend. She played the leading role in Pepper Dennis, a short-lived TV series on The WB. This series showcased Romijn's talents for comedy, singing, modeling, drama, and adventure.