Rosamund Pike NUDE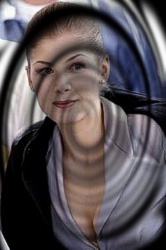 Rosamund Pike (born 27 January 1979) is an English actress. She is perhaps best known for her portrayals of Bond villainess Miranda Frost in Die Another Day and Jane Bennet in Pride and Prejudice
Pike is the only child of Caroline and Julian Pike, both musical performers. She attended Badminton School in Bristol before studying English Literature at Wadham College, Oxford. While there, she studied under both Bernard O'Donoghue, the Whitbread prize-winning poet, and Robert J.C. Young, the eminent post-colonial theorist. An able student, she achieved a First Class in her first year examinations (known as Moderations) and, after taking a year off to pursue her career, returned to complete her degree in 2001, gaining an Upper Second.
She garnered stage experience in student productions, including David Hare's Skylight, Arthur Miller's All My Sons, and several plays by Shakespeare. While appearing in a production of Romeo and Juliet at the National Youth Theatre, she was noticed by an agent who helped her embark upon a professional career.
Pike's British television roles appearances include A Rather English Marriage (1998), Wives and Daughters (1999), and Love in a Cold Climate (2001), a mini-series based on the Nancy Mitford novels The Pursuit of Love and Love in a Cold Climate. She appeared as "Sarah Beaumont" in an episode of the series Foyle's War.
Pike became known to a wider audience in Die Another Day as a rogue MI6 agent originally assigned to aid James Bond. During the film's release she appeared in the special show Bond Girls Are Forever and, shortly thereafter, the BAFTA tribute to the James Bond series.
Pike played Elizabeth Malet in The Libertine (2005) co-starring Johnny Depp, which won her the Best Supporting Actress award at the British Independent Film Awards. In the same year, she portrayed Rose in The Promised Land (a film about Israel), as well as starring as scientist Samantha Grimm in the cinematic adaptation of the computer game Doom. And she appeared as Jane, the elder sister of Elizabeth (played by Keira Knightley), in Pride & Prejudice.
Pike has a role in the film adaptation of Anne Michaels' novel Fugitive Pieces, and also starred as a successful attorney in the movie Fracture, opposite Anthony Hopkins and Ryan Gosling. The film was her first experience of shooting a movie in Los Angeles.
Her stage credits include Hitchcock Blonde by Terry Johnson (in a role requiring her to appear nude on stage) and Tennessee Williams' Summer and Smoke, both in London's West End, and Gaslight at London's Old Vic Theatre. Pike has said that she would be happy to do at least one play every year.[2] In 2009 she played the title character in Madame De Sade during the Donmar's West End season.
Pike is recording voicework for a lead role in the forthcoming film Jackboots on Whitehall and in 2009 will work on the British film We Want Sex.