Sharon Duce NUDE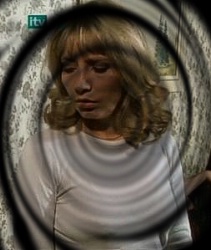 Sharon Duce is a British actress, born 17 January 1950 in Sheffield, Yorkshire.
Her biggest role was alongside Ray Brooks in the BBC comedy drama Big Deal (1984). She currently appears as Paula in Coronation Street.
She has also appeared in:
Wycliffe,
The Royle Family
London's Burning,
Emmerdale
Ghostbusters,
The Tomorrow People
Minder
Coronation Street
Doctor Who (Ghost Light).
Moving On
In 1992 she was reunited with Brooks to star in the BBC TV drama series Growing Pains, in which they played middle-aged foster parents.
She also guest starred for two episodes in February 1992 in ITV's BAFTA award-winning series for teenagers, Press Gang, playing the character of Spike Thomson's mother.
It was announced that Sharon would appear on ITV Soap Coronation Street as Julie Carp's Mother, Paula Carp.