Sigourney Weaver NUDE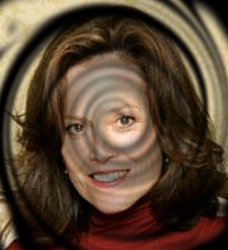 Sigourney Weaver (born October 8, 1949) is an American actress. She is best known for her roles as Lieutenant Ellen Ripley in the Alien film series and as Dana Barrett in the Ghostbusters movies. Weaver is also a three-time Academy Award nominee for her performances in Aliens, Gorillas in the Mist and Working Girl. She is still one of the very few actresses who has ever been nominated for an Academy Award for Best Actress for her role in a science fiction movie (Aliens).
Weaver was born Susan Alexandra Weaver in New York City, the daughter of Elizabeth Inglis (née Desiree Mary Lucy Hawkins) (d. 2007), an English former actress, and the NBC television executive Sylvester "Pat" Laflin Weaver (d. 2002), an American of Scottish, Ulster Irish and early New England ancestry.[1][2][3][4] Her uncle, Doodles Weaver, was a comedian and actor. She began using the name "Sigourney Weaver" in 1963, aged fourteen, after a minor character (Sigourney Howard) in F. Scott Fitzgerald's novel The Great Gatsby.
Weaver attended the Ethel Walker School, a prep school in Simsbury, Connecticut where she was made fun of all the time for being a "nerd" and for her height. She also attended The Chapin School She was reportedly 5'10" by age 13, but only grew another inch to her adult height of 5'11". She graduated from Stanford University (BA, English, 1972).[7] She earned an MFA (1974) at Yale School of Drama,[8] where she appeared in the chorus of a production of Stephen Sondheim's The Frogs and as one of a mob of Roman soldiers in another production[9] as well as, later, in original plays by friend and classmate Christopher Durang. She later appeared in the 1981 Off Broadway production of his comedy Beyond Therapy directed by then up-and-coming director Jerry Zaks. She is fluent in French and in German.
Although Weaver has played a number of critically acclaimed roles in movies such as Gorillas in the Mist, The Ice Storm, Dave, and The Year of Living Dangerously, she is best known for her appearances as Warrant Officer/Lieutenant Ellen Ripley in the blockbuster Alien movie franchise. She first appeared as Ripley in Ridley Scott's 1979 film Alien. She reprised the role in three sequels, Aliens, Alien 3, and Alien Resurrection. She was nominated for a Best Actress Academy Award for portraying Ripley in Aliens. She also starred in two films in 1988, receiving Academy Award nominations for her roles as Katherine Parker in Working Girl and as naturalist Dian Fossey in Gorillas in the Mist. She lost out to Geena Davis and Jodie Foster respectively, although she received Golden Globes for both roles.
Weaver with her father Pat Weaver in 1989Weaver also appeared in Ghostbusters and Ghostbusters II as Dana Barrett. She played the role of agoraphobic criminal psychologist Helen Hudson in the 1995 movie Copycat, and went on to become one of the most highly paid actresses of the 1990s. In addition to her trademark role as Ripley, Weaver has recently concentrated on smaller roles such as 1999's A Map of the World and 2006's Snow Cake. She has also appeared in comedic roles, such as Jeffrey (1994), Galaxy Quest (1999), and Heartbreakers (2001), in which she starred with Jennifer Love Hewitt.
In 1997, Weaver won the BAFTA Award for her supporting role in Ang Lee's The Ice Storm. In 2003, she was voted 20th in Channel 4's countdown of the 100 greatest movie stars of all time. She was one of only two women in the top 20 (the other was Audrey Hepburn). That year, she also played The Warden in the movie Holes. In 2006, Weaver returned to Rwanda for the BBC special Gorillas Revisited.
Weaver was approached to star in The Accused but felt the nature of the story was too violent. She was considered for the role of Catherine Tramell in Basic Instinct, but Sharon Stone was cast instead. Jane Campion wanted a "Sigourney Weaver-type" for her film The Piano, but Weaver's agent turned the film down without consulting Weaver[citation needed]. Holly Hunter went on to win the Oscar for the role, and Weaver fired her agent[citation needed]. Bryan Singer originally wanted Weaver for the role of Emma Frost in X-Men: The Last Stand, but Singer (along with screenwriter Dan Harris, who had directed Weaver in Imaginary Heroes) left the project, and the idea to include Frost was dropped. In 2009, Weaver starred as Mary Griffith in her first made-for-TV movie, Prayers for Bobby, for which she was nominated for an Emmy Award. She also guest starred in the TV show Eli Stone in the fall of 2008..