Sirens NUDE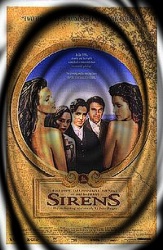 The film stars Grant as Tony, an Anglican priest newly arrived from England, asked to visit a notorious artist, loosely based on the Australian artist Norman Lindsay and played here by Sam Neill, out of the church's concern about a blasphemous painting the artist plans to exhibit.
Estella, the priest's wife (played by Tara Fitzgerald), accompanies him on the visit to the artist's bucolic compound in the Blue Mountains. The artist's saucy models are played by Elle Macpherson and Kate Fischer; Lindsay's wife, Rose (Pamela Rabe) also poses for him. Portia de Rossi (in her film debut) plays the maid who has just begun demurely modeling for him as well. Mark Gerber plays the partially blind Devlin, the "odd-job" man who also poses for Lindsay.
While both Grant and Neill play characters critical to the film's story, the film is really about Estella, who responds to the sensuality of her surroundings over the course of her visit to Lindsay's estate. Her relationship with Tony includes the intimacy and commitment needed in a well-rounded marriage, but is missing the passion, in all of that term's senses.
All of Estella's senses are engaged by the backdrop for the film, a lush and dangerous landscape filled with the distinctive flora and fauna of Australia. To the prim and proper English wife of a priest it's all quite exotic. Lindsay's voluptuous models (played by Macpherson and Fischer) live the libertine lives that Lindsay champions through his paintings and Lindsay has animated postprandial conversations with her husband. Those scenes and conversations, and various glimpses of naked models and a naked Devlin, contribute to the stimulating environment.
The surroundings and the lives of the models are siren calls that lead Estella to fantasize with increasing intensity[1], and (with encouragement from the models) act on a few of her impulses. She suffers morning-after remorse about a late-night encounter with Devlin, and perhaps influenced by supportive words from her husband (who had witnessed her acting on one of her impulses, though not the sexual one with Devlin), the film ends with a playful scene between the two of them. The scene hints at the possibility that she may find passion with her husband after all.
A separate story arc follows de Rossi's character as she matures emotionally under the influence of the other two models and Estella's advice. It intersects with the primary arc in the person of Devlin, to whom de Rossi's character is attracted.