Sue Johnston NUDE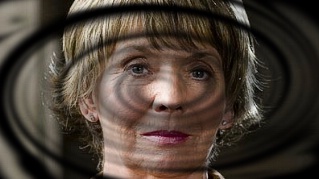 Susan "Sue" Johnston, OBE (born 7 December 1943) is an English actress probably best known for playing Sheila Grant in the long-running soap opera Brookside (1982-90), and Barbara Royle in the BBC comedy The Royle Family between 1998 and 2000, once in 2006 and again in 2008.
Sue (birth name 'Susan') was born in Warrington, then Lancashire now Cheshire, and grew up in Prescot, then Lancashire now Merseyside, and was educated at the local Prescot School.
After working as a Higher Grade tax inspector, when her boyfriend was one of the pop group The Swinging Blue Jeans, she worked for Brian Epstein. From the age of 21, Sue attended the Webber Douglas Academy of Dramatic Art in London.
From 1982 to 1990 she appeared as Sheila Grant in the soap opera Brookside. Since then she has appeared in many drama series and films, including Inspector Morse, Hetty Wainthropp Investigates, Brassed Off, and My Uncle Silas. In 1992 Sue gave a tour de force performance in the three-part award winning drama Goodbye Cruel World, in which she portrayed a woman coming to terms with a muscle-wasting illness. She was ably supported by Alun Armstrong as her husband and Jonny Lee Miller in an early role.
Sue currently stars in the television series Waking The Dead, in which she plays the role of psychological profiler Grace Foley, alongside Trevor Eve. Johnston is also well-known for her role as Barbara Royle in the comedy series The Royle Family, appearing alongside her former on-screen husband in Brookside, Ricky Tomlinson.
In 2004, she appeared in one episode of the series, Who Do You Think You Are?, in which she traced her family tree.[1] She has starred in Jennifer Saunders comedy drama Jam & Jerusalem on BBC One, alongside Joanna Lumley, Maggie Steed and David Mitchell. The first series aired in 2006, the second series began on 1 January 2008 and the third in August 2009. In late 2008, she played Affery Flintwinch in the BBC adaptation of Little Dorrit.
In May 2008 it was confirmed Sue would return as Barbara Royle for a final episode of The Royle Family, which aired on Christmas Day 2008, on BBC 1.
On 29 December 2008 it was claimed that Sue was to reprise her role again, after the BBC and Caroline Aherne had met to discuss further episodes of The Royle Family, and Caroline had agreed "in principal" to discuss a deal.Sue has campaigned on behalf of the Labour Party and has been a long-time gay rights campaigner.She is a supporter of Liverpool Football Club.
Despite playing the role of heavy smoker Barbara in The Royle Family, Sue gave up in 1978 and was forced to smoke herbal cigarettes whilst playing the role, however she is now completely anti-smoking.Sue was appointed Officer of the Order of the British Empire (OBE) in the 2009 Birthday Honours.She has one son Joel, from her previous marriage to David Pammenter