Susan Dey NUDE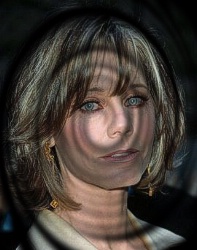 Susan Dey (born December 10, 1952 in Pekin, Illinois) is an American actress, known primarily for her roles in film and television.
She was born Susan Hallock Smith[1], and later adopted her mother's maiden name as her professional name. She graduated from Fox Lane High School in Bedford, New York.
Dey is best known for her roles as eldest daughter Laurie Partridge on the 1970s sitcom The Partridge Family, and as a California assistant district attorney and judge, Grace Van Owen, on the dramatic series L.A. Law, a role she played from 1986 to 1992.
Born to Robert Smit (a newspaper editor) and Gail Dey (a nurse), Susan was a model before starring as Laurie Partridge in the television series The Partridge Family from 1970–1974. She was 17 years old when she won the part and had no previous acting experience.
Dey co-starred with Albert Finney in a 1981 science-fiction film, Looker, written and directed by Michael Crichton. She had a leading role in 1986's Echo Park as a struggling waitress/actress who takes a job as a stripper who delivers singing telegrams.
She was critically hailed for her starring role in the TV series L.A. Law as Grace Van Owen. She earned a Golden Globe award as "Actress In A Leading Role – Drama Series" for this role in 1987. She was nominated four more times the following four years. She was also nominated for the Emmy Award for "Outstanding Lead Actress in a Drama Series" for this role in 1987, 1988, and 1989.
Dey hosted a 1992 episode of Saturday Night Live.
Later that year, she co-starred in the CBS sitcom "Love & War" with Jay Thomas. Although the show ran until 1995, Dey lasted only one season, getting replaced in 1993 by Annie Potts (who went on to earn an Emmy nomination for her performance).
Dey was married to Lenny Hirshan from 1976-1981. They had one daughter, Sarah Hirshan (born 1978). Dey has been married to her second husband, television producer Bernard Sofronski, since 1988. She serves as a board member of the Rape Treatment Center at UCLA Medical Center and co-narrated a documentary on campus rape with her L.A. Law co-star, Corbin Bernsen.