Theresa Russell NUDE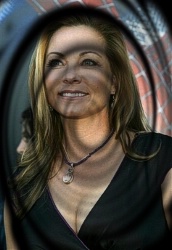 Theresa Russell (born Theresa Paup; 20 March 1957) is an American actress.

Russell began modeling at the age of 12 and made her film debut in 1976 in The Last Tycoon, starring Robert De Niro. Theresa Russell has since appeared in such films as Straight Time (1978), Bad Timing (1980), Black Widow (1987), Impulse (1990), and The Believer (2001), as well as the HBO mini-series Empire Falls in 2005 with Ed Harris. Russell appeared in 2007's Spider-Man 3 as the wife of Flint Marko (Thomas Haden Church).

Russell was born in San Diego, California, the daughter of Carole Platt (née Mall) and Jerry Russell Paup.[2] She attended Burbank High School.[3] She married English film director Nicolas Roeg (born 1928), in 1982 (they have since divorced), and has two children, Maximillian Roeg and Statten Roeg. Pete Townshend of The Who admits that Russell was the inspiration for their song, "Athena", which was first called "Theresa". She lives in California.