Toyah Willcox NUDE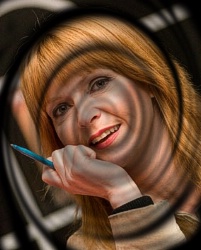 Toyah Ann Willcox (born 18 May 1958 in Kings Heath, Birmingham) is an English actress and singer.
Toyah's father ran a successful joinery business. She attended Edgbaston C of E College where she gained a GCE pass in music and trained as an actress at the Old Rep Drama School in her home town of Birmingham.
She first became well-known during the punk rock era, her appearances in Derek Jarman's 1977 film Jubilee and 1979's Who album-inspired Quadrophenia launching her as a provocative and anti-establishment figure, an image she eventually abandoned.

Toyah was well-known during the punk rock era, such as in this 1982 video for "Brave New World".

Fronting a band known as Toyah, her singing career was slow to take off and the band released six singles in the UK before finally hitting the charts in 1981, with "It's a Mystery" and "I Want to Be Free". These singles were also successful on an international level. In 1982, she was voted Best Female Singer at the British Rock and Pop Awards — since restyled as The BRIT Awards, or "BRITs" — and in 1986 she married UK guitarist Robert Fripp. She was one of the first acts to score regularly in the UK Singles Chart with EPs. Also in 1986, Willcox sang lead on the Tony Banks track "Lion of Symmetry". In 1987 she made the top fifty with her version of "Echo Beach".
Since then, she has become a well-known (and more conventional) face on television and in theatre. She has played straight roles, including in Quatermass (1979), Minder, and in Shakespeare plays, and appeared as a presenter of programmes such as Songs of Praise, Holiday (BBC), and Good Sex Guide Late as well as being a guest panellist on several shows. In 1984 she starred opposite Sir Laurence Olivier in The Ebony Tower and the same year, opposite Katharine Hepburn in the made-for-television movie The Corn is Green, directed by George Cukor. She also appeared in Tales from the Vienna Woods at the National Theatre and in Trafford Tanzi at the Mermaid Theatre.
In 1999, she took the lead in the children's television series Barmy Aunt Boomerang. She also provided the voices for the children's television programmes Teletubbies and Brum. She has also appeared in the reality television series I'm a Celebrity... Get Me Out of Here! and I'm Famous and Frightened!.