Zuleikha Robinson NUDE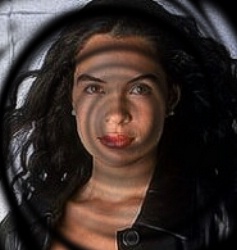 Zuleikha Robinson (born in London on June 29, 1977) is an Emmy, SAG Award, Golden Globe and Academy Award-nominated British actress, raised in Thailand and Malaysia by a Burmese Indian mother and an English father.[1]. Her name means "beautiful one" in Persian.[1]She is a graduate of the American Academy of Dramatic Arts in Los Angeles, and best known for playing Yves Adele Harlow in the X-Files spin-off, The Lone Gunmen.
In 2006 she played a Bengali character called Moushumi Mazumdar in Mira Nair's acclaimed movie The Namesake. Robinson had a supporting role in the HBO series Rome, and played Eva Marquez, a NYPD detective, in the television drama on Fox, New Amsterdam.
She will be joining the cast of the 5th season of the ABC Show Lost in 2009, as a recurring character named Ilana, who is described as "a dangerously smart and also simply dangerous European femme fatale".[2]